Summary of 2022
February 1, 2023
It is a new year and so we need to proceed to the ritual of evaluating the previous year, because thanks to this we can better plan the next year. How was my 2022, what did I work on, where did I travel and what did I experience?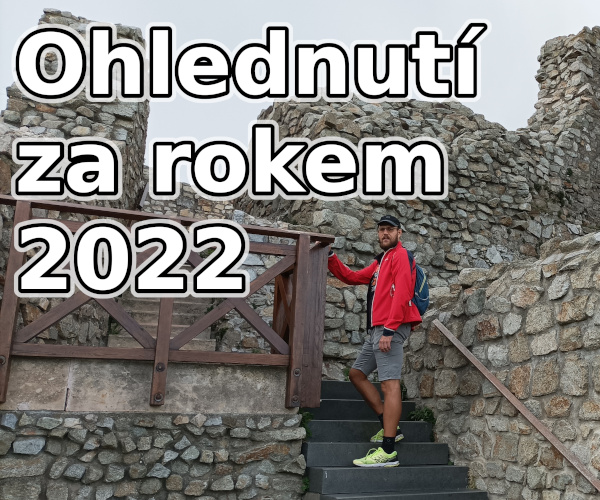 I started the year 2022 in the Canary Islands in Las Palmas, as you can read in the article about Las Palmas. From the article, it's clear that I started the year with terrible housing, so once I sorted that out, the year has only had to get better and better since.
Staying in Las Palmas was a pivotal experience for me. Because it was my first long term stay abroad. Until then, there was no time for stays abroad because I was so busy with school and later work or training. At the same time, there was no one around me who could motivate me to travel in any way, either by inspiration or by me joining another traveler. Only once was I in Portugal with a community of PHP programmers. And once in the Balkans see videos of travel in Slovenia and Montenegro. (I don't think of traveling in Slovakia as foreign.)
However, not to repeat myself, my experiences and experiences of staying in Las Palmas, you can read this information in the article Finding Las Palmas.
Information about the previous year can be found in the article: Summary of the year 2021
Goals for 2022
Sport and Health.
Increase the value of my work.
Improve the skill of wrapping women and actively finding a lady.
Travel: around the country, to Slovakia and abroad.
Learn something new for personal use and for work.
Meet new interesting people.
Health
I get hardened regularly. It's a simple way to have better immunity and higher testosterone production. Personally, hardening up helps me relieve stress too. I typically deal with it with a cold shower in the morning or evening and always after sports.
I've been wanting to try winter hardening in the outdoors for a while now. Without any planning, I ended up hardening off in November in Prague in the Vltava River. Where I also met for the first time in person the strong personality Daniel Landa.
Travel
Compared to 2021, when I was traveling the countryside and moving around a lot, I've decided to be in one place and somewhere in the city more because that's where the people and girls are. With the city and significantly fewer moves, I was able to get to know a new place well while having a social life. So I decided after about a month to try different big and foreign cities.
Earlier in the year, as I mentioned, I was in Las Palmas and also spent some time in Vienna on the way back.
As I was going to be travelling longer distances this year, and often to Prague, I got a vignette. Thanks to the electronic version of the vignette, getting one was easy.
Wroclaw Summer
When I got home I decided on the spur of the moment to go to Wroclaw (Polish for Wroclaw), because it was a foreign city that was close from the Giant Mountains and big but not overgrown like Prague. In retrospect, I can say that it was an excellent choice. The city met my requirements and it is also very nice and excellent for cyclists! You can read more in the article Packing and Nomading in Wroclaw.
GPS route logs Wroclaw
Prague summer
The next stage was supposed to be Brno, but I couldn't find anything to live there in the small time beforehand. So I chose Prague. Prague is not my favourite city, but I was very surprised by the result and I enjoyed my stay there from the first to the last day.
I worked hard in Prague, cycling and picking up girls. I'll probably summarize it in more detail in some memories :).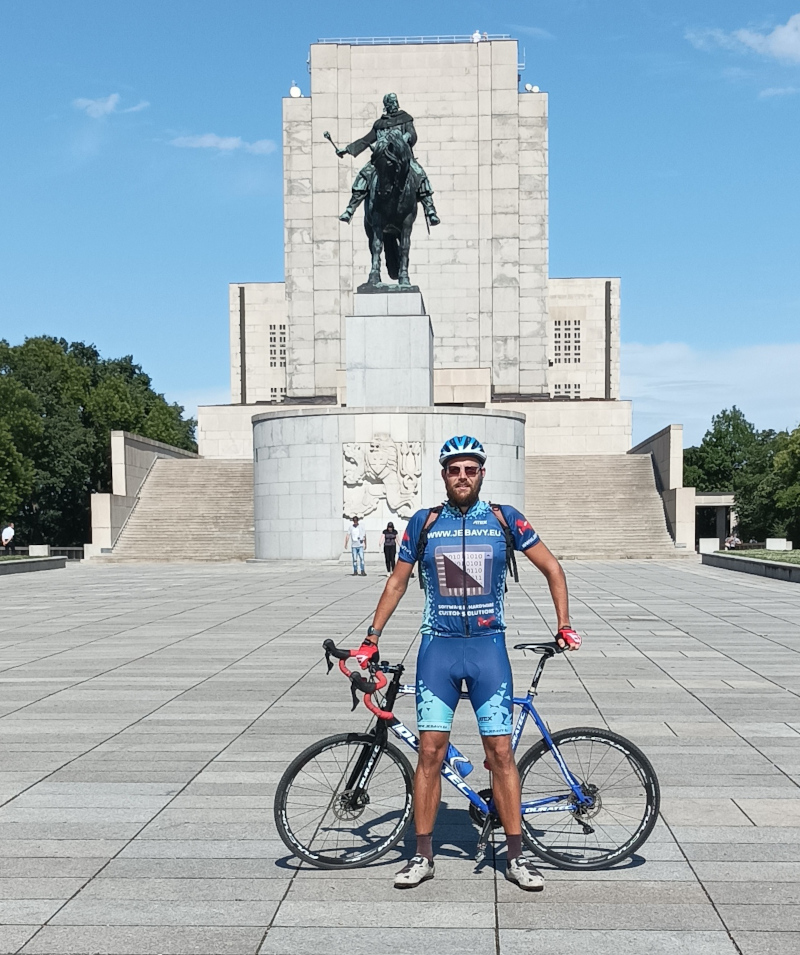 It's hot in Prague in the summer, but I had a ground floor flat where even in the heat it was too cool. Specifically, I lived in Branik. From there it was a short walk to the green area around the Vltava River. In the mornings I would go to the playground with my yoga mat to stretch. I could ride my bicycle along the river to the city centre and get to the social hub quickly and comfortably. I had a monthly pass for public transport, but I didn't end up using it much , because I cycled everywhere and the girls followed me all the way to Braník.
Plzeň
Then I had a planned vacation where I worked minimally and devoted myself to cycling or friends.
After my stay in Prague, I had a vacation and went to a friend's place in Pilsen.
In the Pilsen region I was at the Vranov dam, where I cycled, swam and visited the city of Pilsen.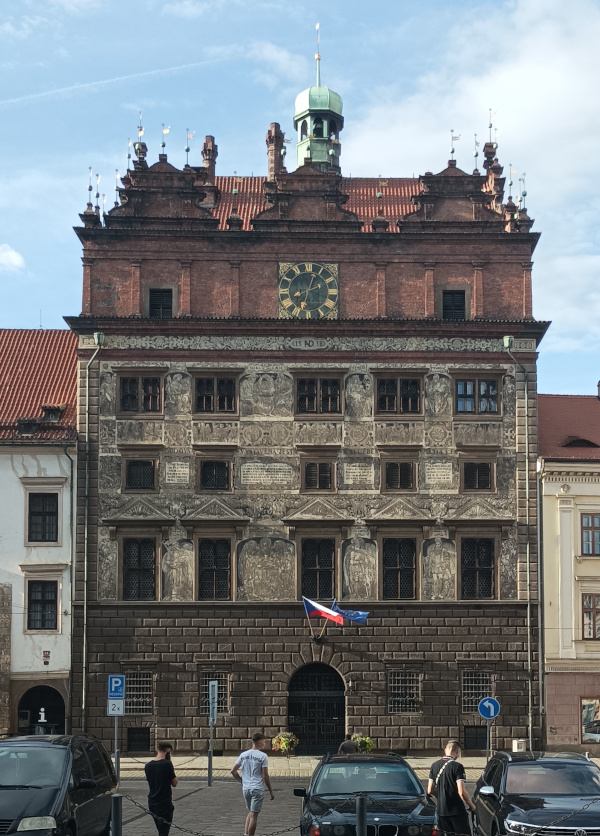 This place is great for cycling because there are lots of nice paths, nature and not too many hills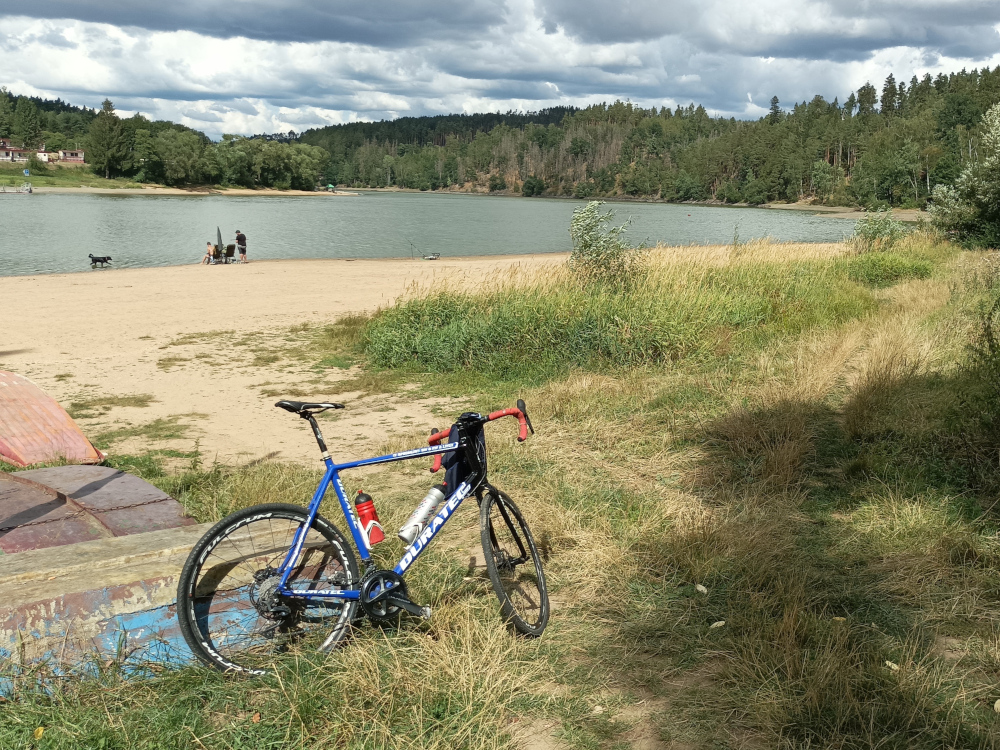 I was in the town of Stříbro for a tour of the former silver mines, which is run by the Silver Mining Association.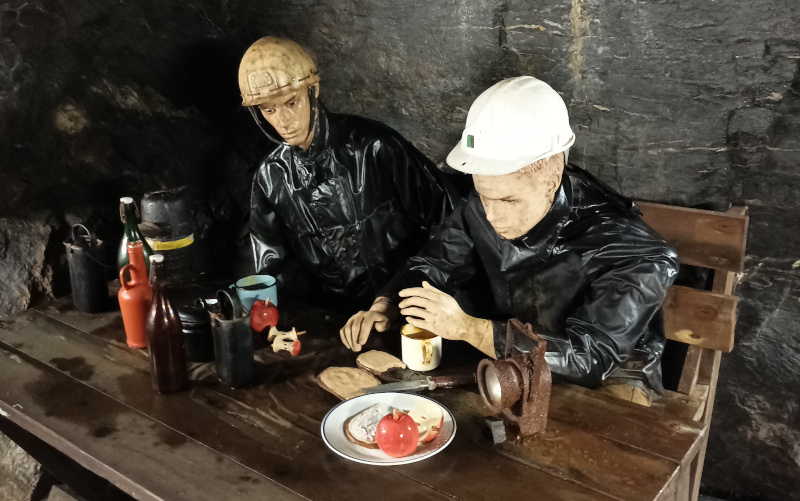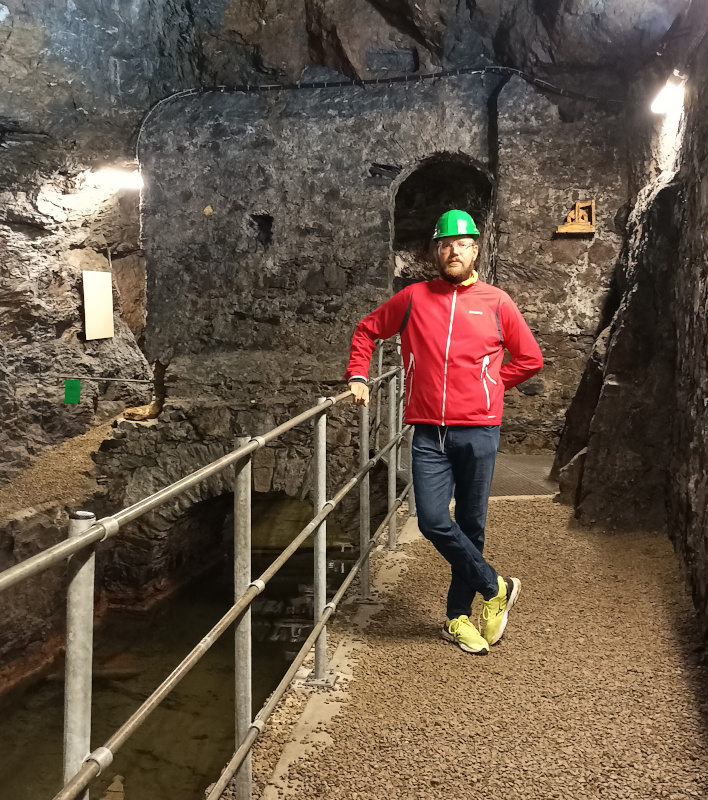 Highlands
Then I took the motorway through Prague to the Highlands to another friend's place.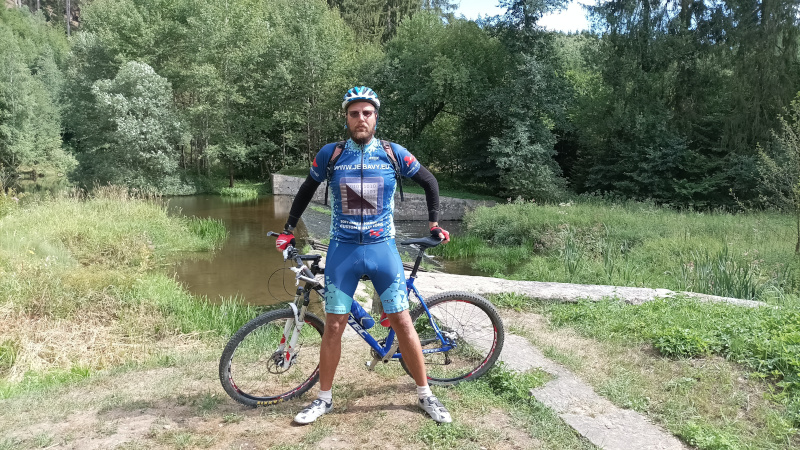 I was there in the village of Želiv and stayed in a tent in a local camp: Camp Želiv. While the previous week was hic it has now cooled down and it is a campsite by a stream :(
GPS route logs 2022 Vysočina Plzeňsko and more...
Slovakia - Bratislava
I subsequently drove to Bratislava via Brno on the motorway. I set off early in the morning, so traffic was quite smooth. In Slovakia, I got off the motorway because I didn't have a local vignette. And thanks to that, I came across many nice sandy ponds across the border, and I even took a swim in one of them, and then cooked a meal there in a casserole dish.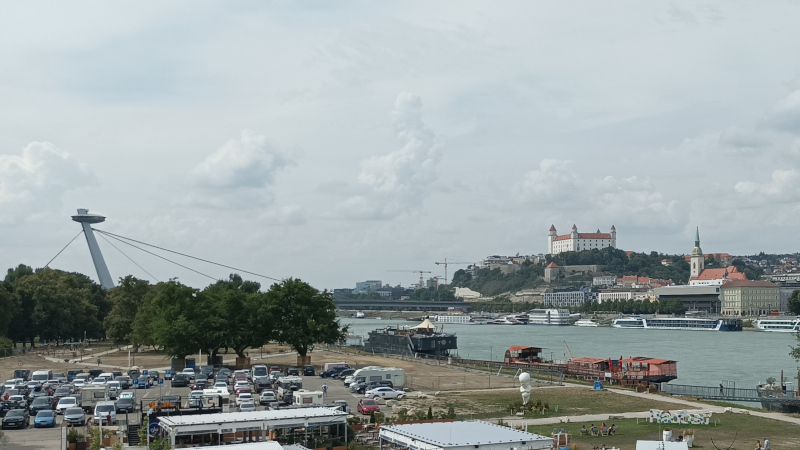 I lived in the Petržalka housing estate in Bratislava and I really liked the housing and the estate. In the middle of the Petržalka housing estate there is a sandy Drazhdiak pond, so I could be on the pond and swimming every day on foot or in 10 minutes on my bike.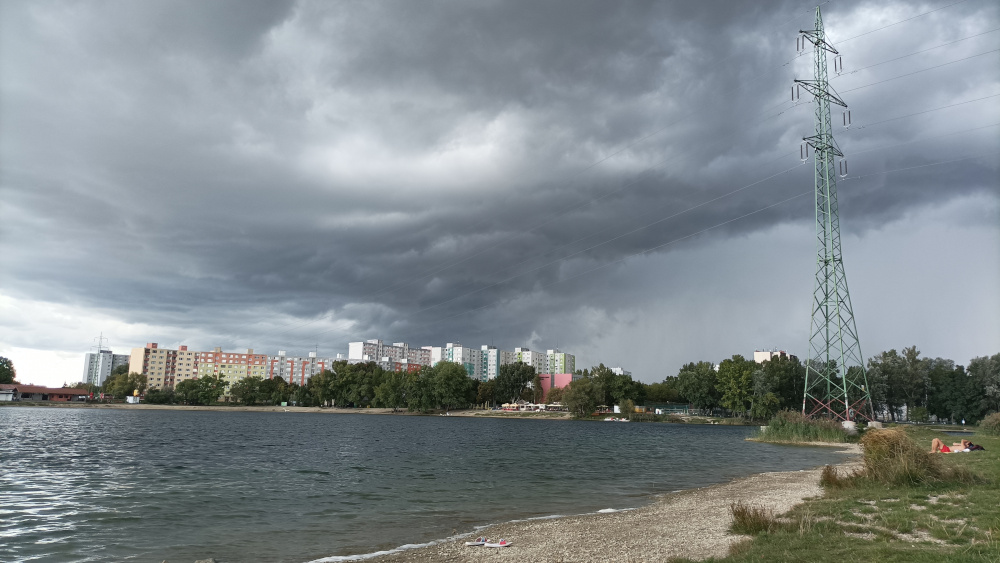 In this kitchen, I prepared the food: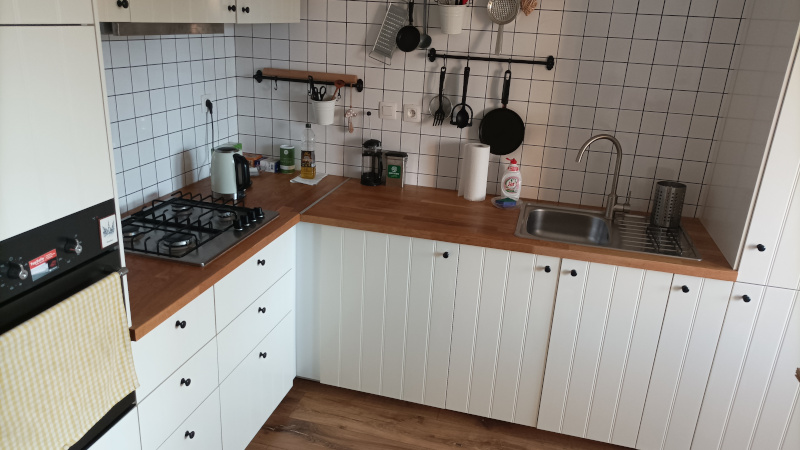 Nearby are the villages of Rusovce and Čuňovo. Here I visited the beautiful clean Big Chuňovo lake. And the nice but dilapidated Rusovce manor house, which is in the village of Rusovce.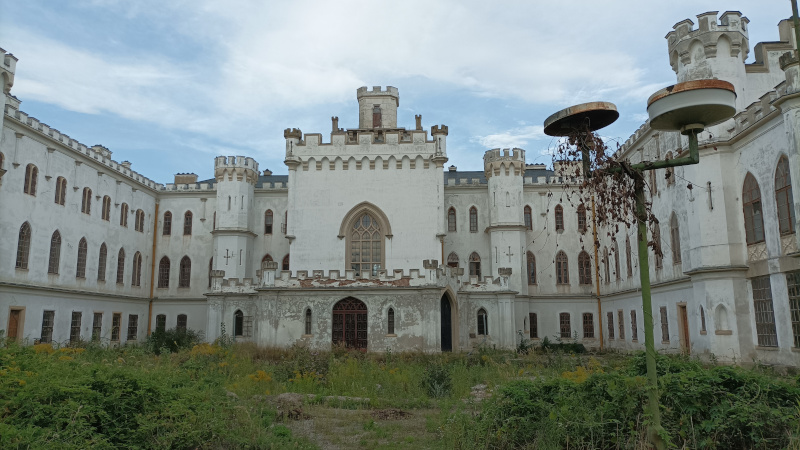 For more see video The Manor House in RUSOVCIACH
In Bratislava, I visited the park near the presidential residence: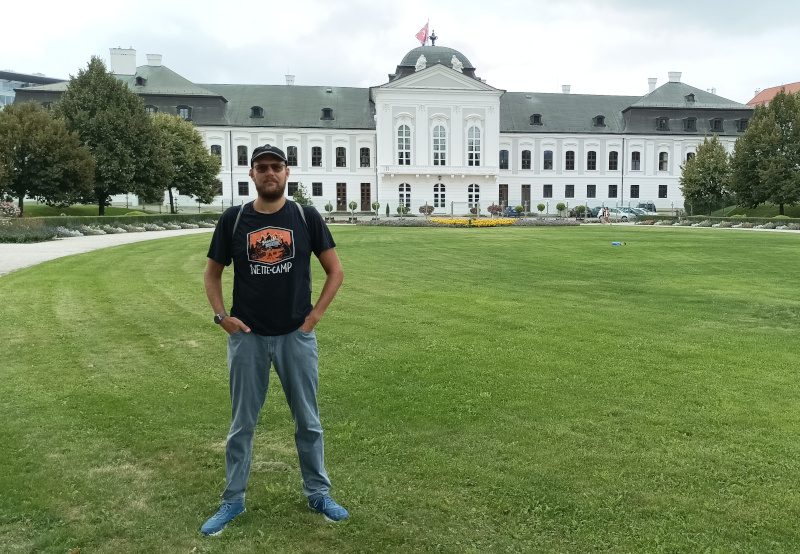 And he liked to get around, typically by bicycle, along the banks of the Danube River, where there is much to see and, for example, the statue of Stefanik: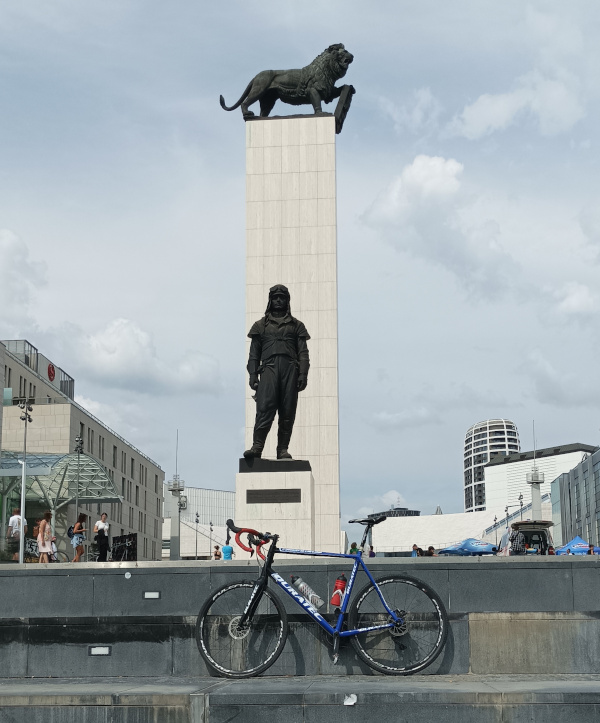 In Slovakia, I made a trip to the village of Devín, where there is the Devín Castle, which, if it hadn't been for Napoleon's troops blowing up the castle for no reason, might still be standing today. And it was a big castle! The history was also interesting, especially since Slovak history is not taught much in the Czech Republic or mentioned elsewhere.
Děvím Castle is at the confluence of the Morava and Danube rivers. Photos of the ruins of Děvín Castle: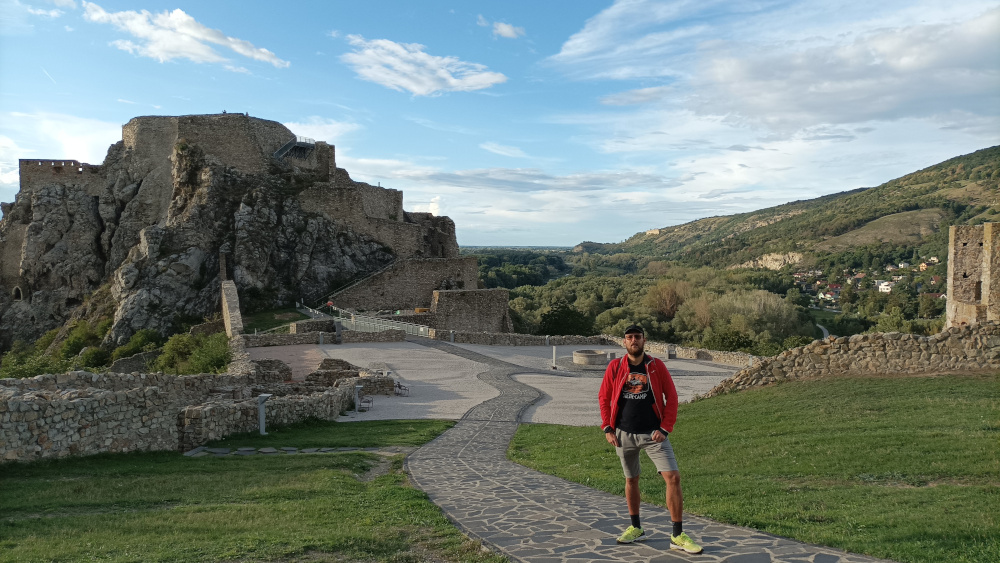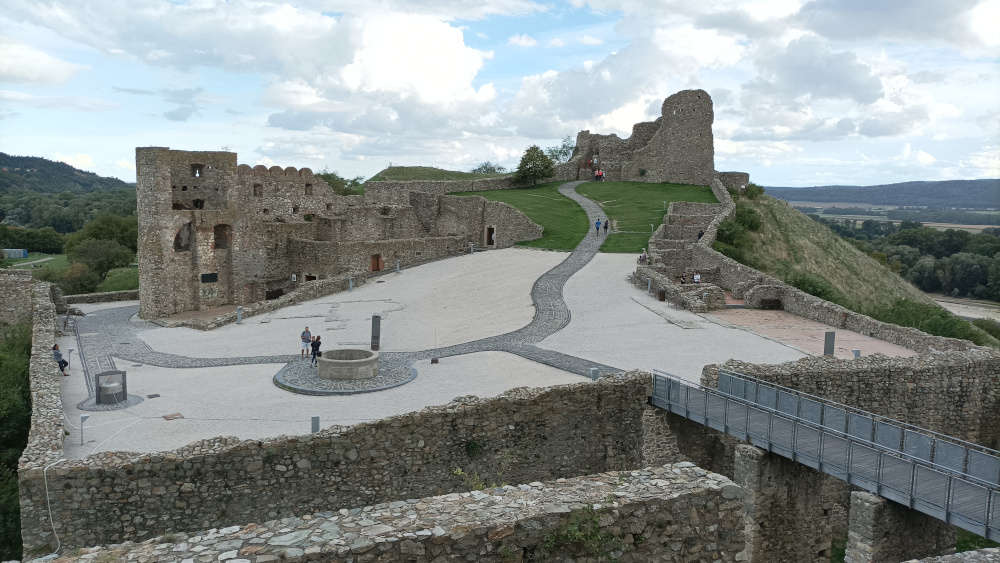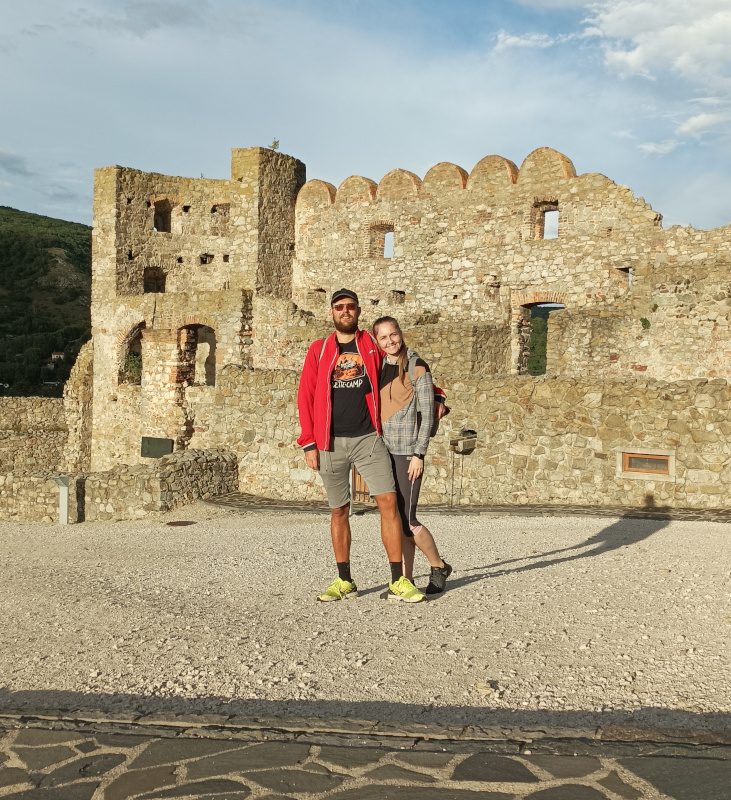 My nomadic workplace in Slovakia: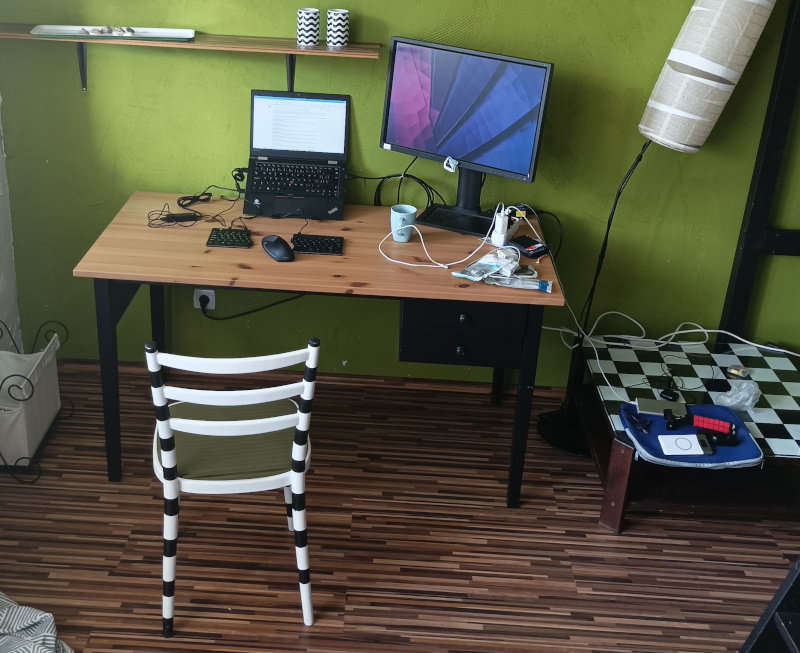 GPS route logs in Bratislava
Vienna
Coming from Slovakia, I first took a detour to Vienna where I rode my bike and then rode to Brno to a friend's place from where I then rode to WarpCamp. So for the second time in one year I visited Vienna.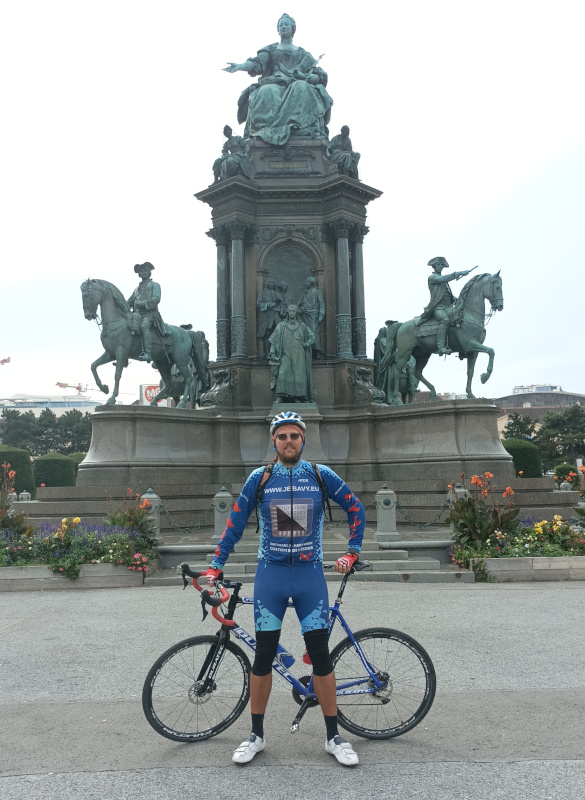 WarpCamp
WarpCamp is a gathering of computer scientists. And I like it because it's outdoors and multi-day. It's such a great opportunity to meet experts and friends, discuss together, play board games, and try out new technologies.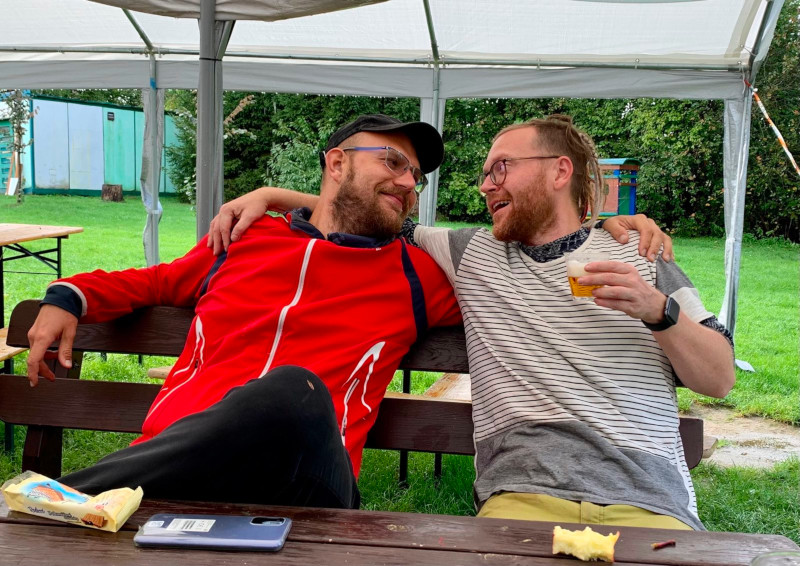 I've tried intensively virtual reality in Oculus goggles.
Here I had the opportunity to take a ride in an electric car. I've already tried a few Tesla electric cars and one Citroen. This time it was Tesla again, and it was a Model 3 Long Range: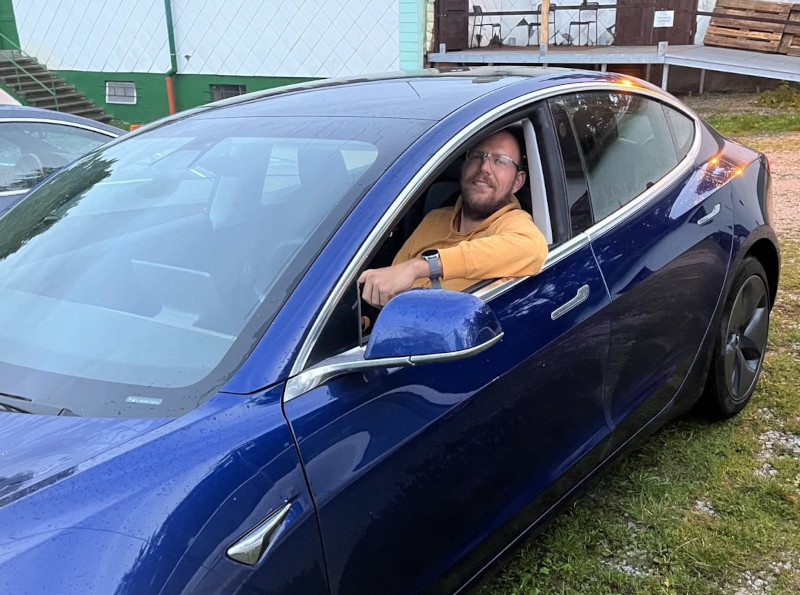 Wroclaw Autumn
I spent the beginning of autumn in Wroclaw, but once the weather wasn't like summer, it wasn't the same. It was cooler, the day was shorter and after the time shift it got dark very early. So I could still ride my bike, but only around noon.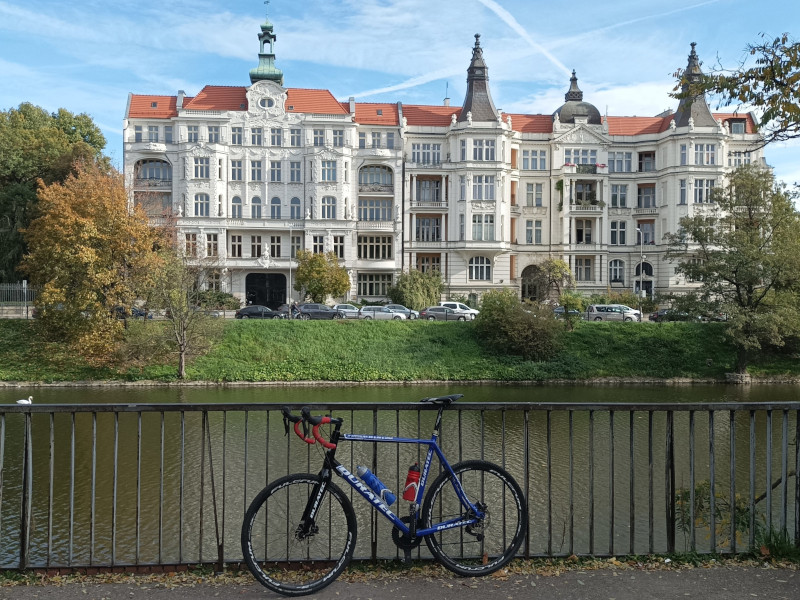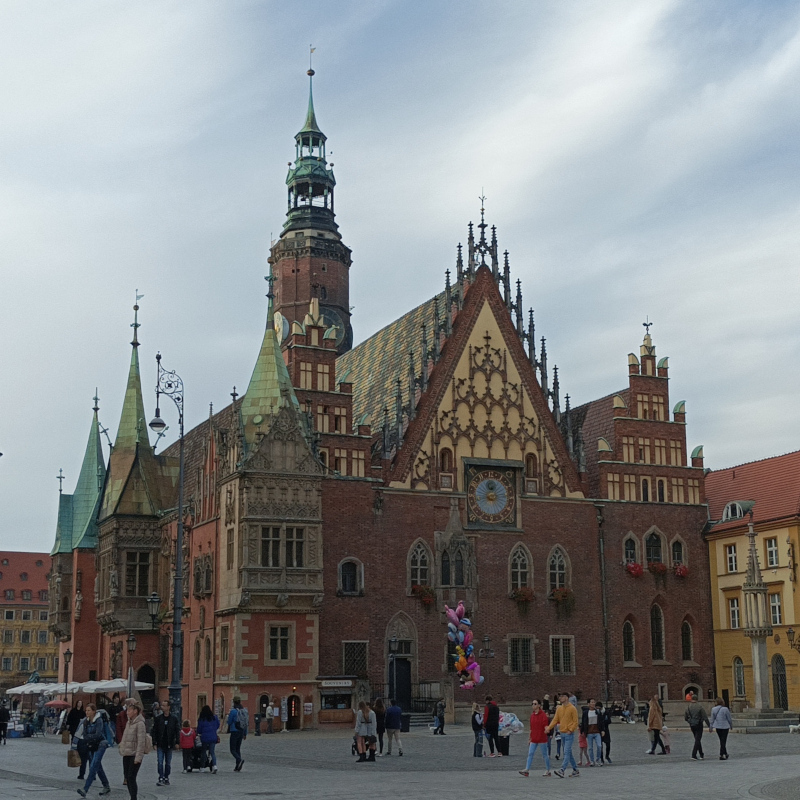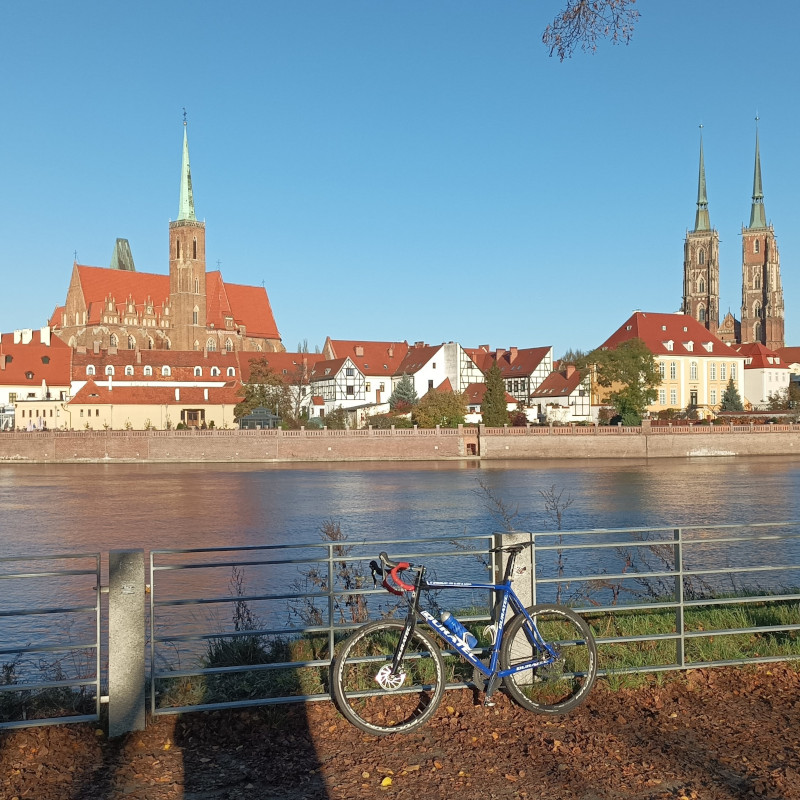 In the article Summer nomadic stay in Wroclaw there are details.
Prague Autumn
I spent the autumn, specifically November, in Prague. Here I had the opportunity to meet my friends again. And since Prague is a big city there is an opportunity to do various urban activities.
However, the weather was already nasty, so I was on my bike about three times in the whole month.
But I have been to the gym. Tried out the martial art of krav maga. Got hardened off in the Vltava River, which fulfilled my winter hardening off outdoors. And even met Daniel Landa, a prominent figure, in person there.
Of course, I participated in several meetups.
One of the autumn bike rides in Prague: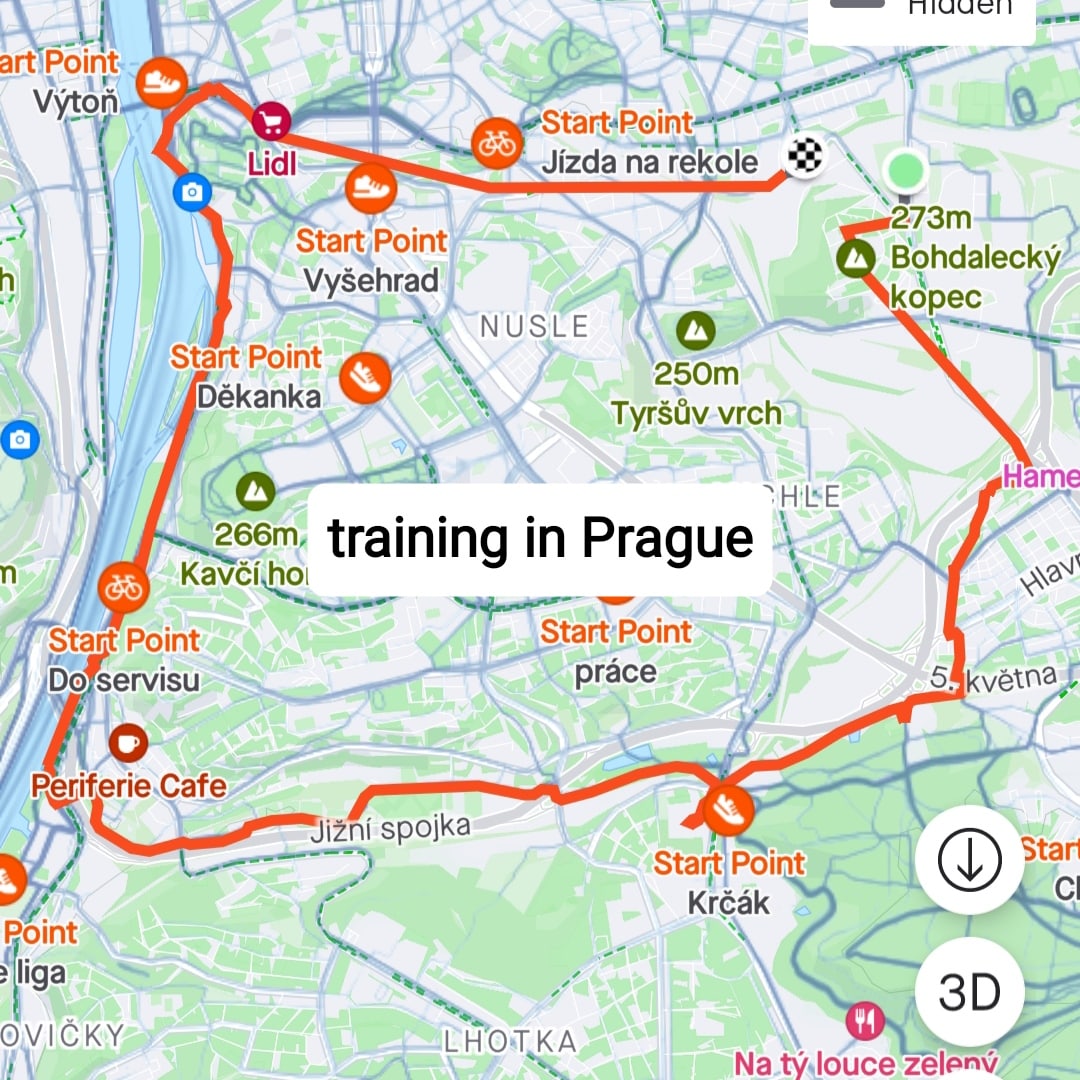 LasPalmas
At the end of the year I went to Las Palmas in search of warmth. The plan was to go earlier than last year and even at the beginning of October, But the busyness of the girls forced me to adjust my plans dynamically and I ended up going to Las Palmas even later than the previous year.
Thanks to the heat and the possibility to do different sports, I work better. I am writing this article from Las Palmas.
Summary of stays
So I was in the Giant Mountains for a while in spring and late summer, possibly staying a night or two. Otherwise, I was elsewhere all year. So that made me a real digital nomad.
Sport
I didn't give much to sports. At least it feels like it, because I haven't had any systematic sports training. But when I think about it, I've actually spent a lot of time doing sports because when the weather was good, i.e. in the winter in the Canaries and in the summer in the centre of Europe, I spent a lot of time doing sports. And I did not only cycling, but also swimming and weight training. I got myself a new yoga mat. And so I started to stretch regularly again. Typically every morning after dawn.
Sport and stretching allows me to maintain good health and mood, and thanks to that I can then devote myself to other activities, especially work.
Business
The work was challenging and complex. I accept challenges and am hardworking, so the reception was good. Eventually I became a VAT payer. Up to a point, the threshold to VAT payer worked as a disincentive for me to work, but eventually I crossed that threshold anyway and had no choice but to deal with new and additional bureaucracy. Since I have income and expenses from abroad, I left the VAT and control report to my accountant. Because the software I use, Fakturoid, cannot handle these complicated situations. So once a month I file two forms electronically and sign them with a data box, which has allowed me to avoid the hassle of going to the office for a long time.
Minor projects and tasks are no longer of interest to me. And I primarily invest my time in those potential collaborations where I know there is potential for long-term cooperation. And where they have experience of what they can realistically expect. So typically I take on existing projects where they need an expert and professional approach. PS: The basis of a professional approach is communication.
There is more and more work and higher quality projects and capable customers. Since the cooperation is long-term, I started to think about not only occasionally delegating work, but also about setting up a company and performing IT activities in a team under the company's umbrella. I see this as a plan for the future, as I wouldn't want to dive in headlong. But on the other hand, I want to focus primarily on my expertise and not become a mall manager.
I'm still dealing with workplace ergonomics. On the one hand, when travelling, it is not much to deal with, but on the other hand, it is all the more necessary to try. I've started carrying a two-piece keyboard when I travel. As a small external keyboard, it's well suited for working with a laptop.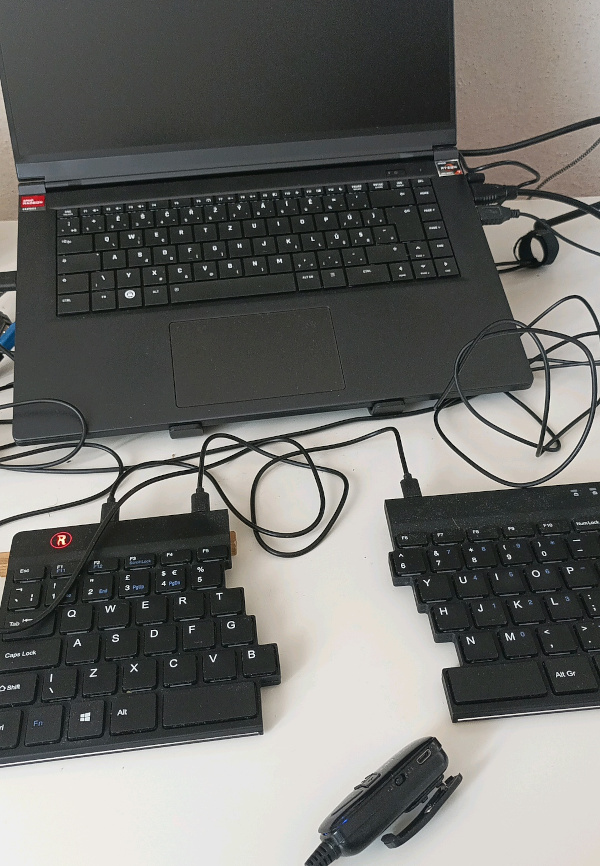 It's not only at work that I find it useful to use wireless headphones. Here is review of the O2 pods. I use the headphones with my mobile and laptop. For listening to podcast, music, video cally and while cooking.
You can see from the photo i got myself a new laptop. It is a model TUXEDO Pulse 15 - Gen2, which comes straight with the OS GNU/Linux. The computer is my main tool, so when I discovered a model that fully meets my requirements, I didn't hesitate to buy it. Thanks to the parameters and performance, it will also replace my desktop.
I will add here some more photos of my workplace while nomadic.
Workplace in Prague: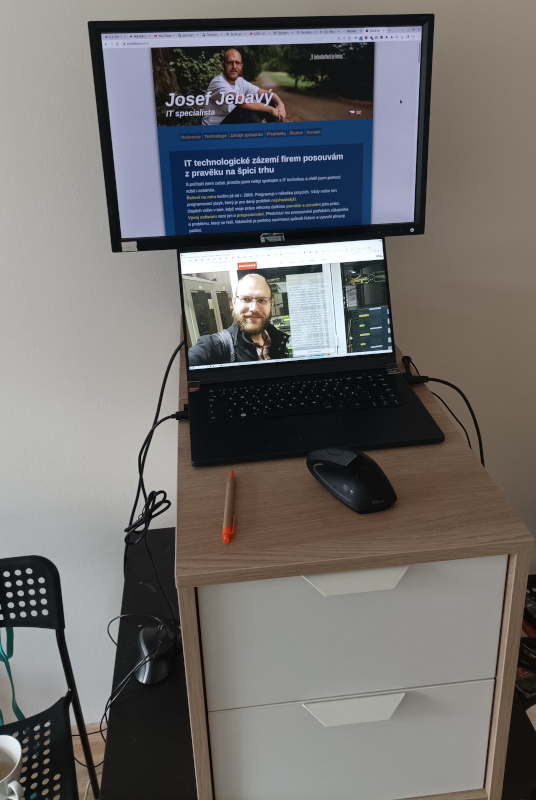 Home workstation on a large positioning table with two monitors: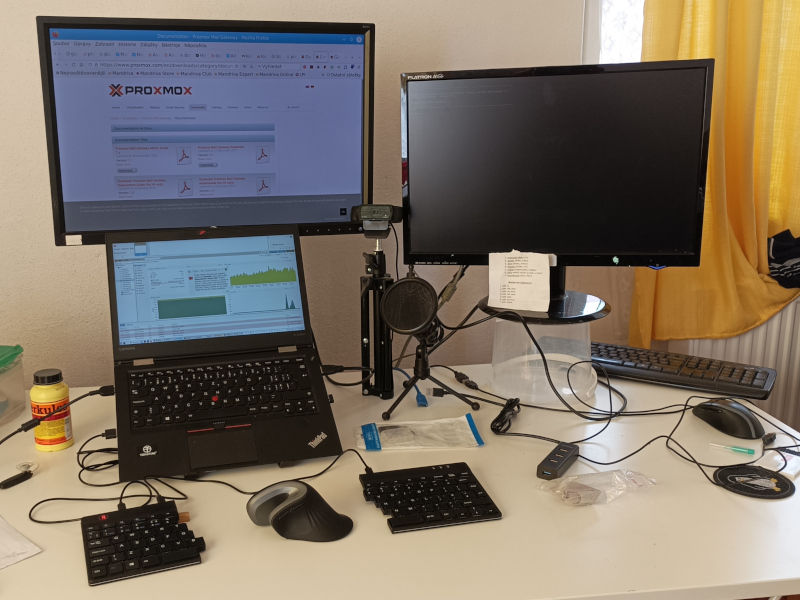 Workplace in Wroclaw: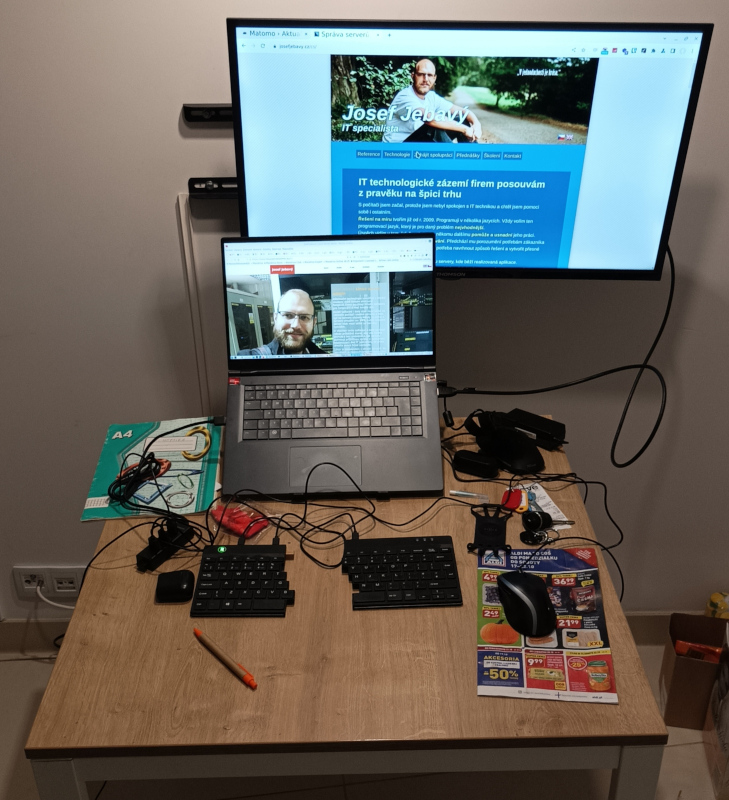 Workplace outside on the balcony in Wroclaw: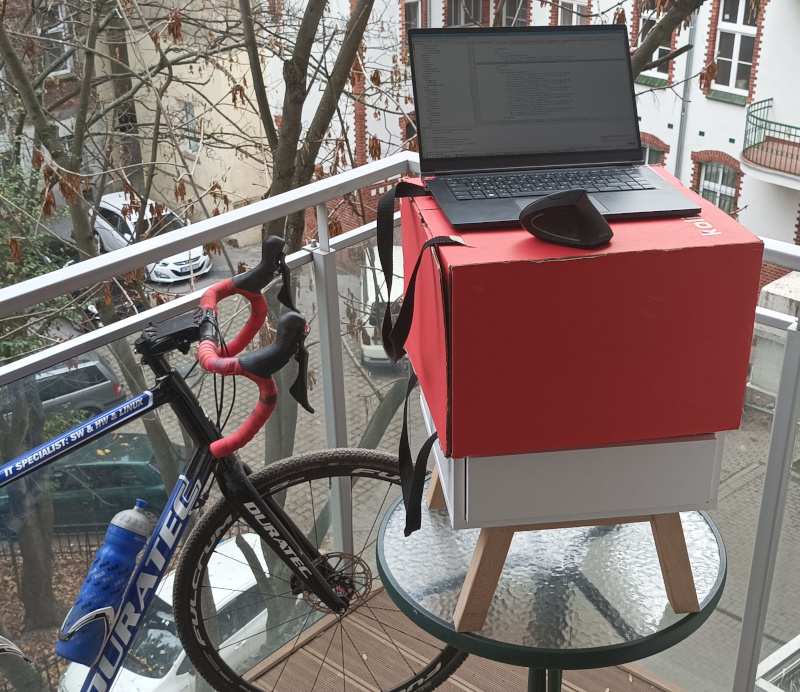 Workplace outside: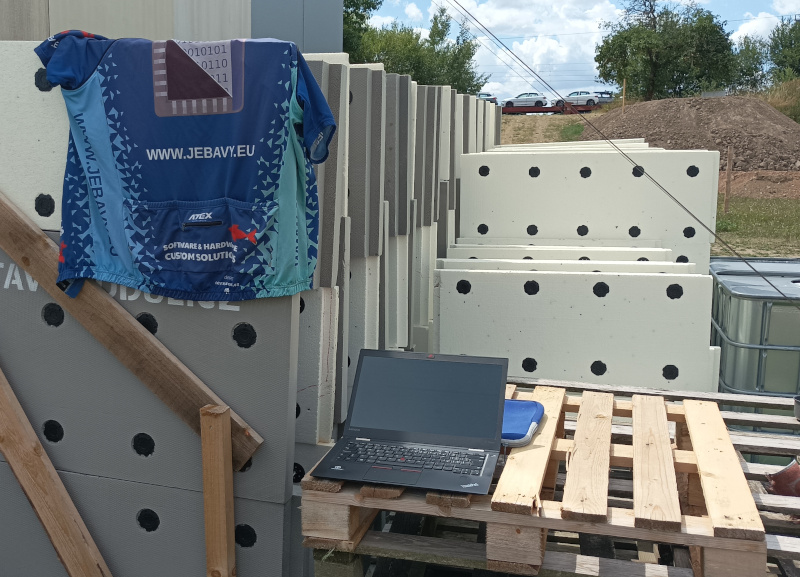 Meetings
During my travels, I met up with my friends again. But at the same time, I met and got to know new people. Two people I met in Las Palmas I keep in touch with.
In Prague, I met a new friend who also has a passion for computer science, enjoys sports and deals with relationship dynamics.
And in Bratislava, met Monika from YT channel Pandora's Box.
Youtube
I haven't paid much attention to my YouTube channel. Still, the number of subscribers was growing. But it hasn't exceeded 1 thousand subscribers yet. Vice I devoted myself to the TikTok platform, where I could embed short videos without much work. Overall, I created videos randomly when I had time or was just intensely working on a topic, either for work or discussion. The videos thus allow me to set aside a given idea or information and then be able to refer to and even return to that idea or instruction myself. This helps others and saves me time.
Articles
According to the plan, I publish about one article every month. And these professional articles allow me to promote myself, build my brand, and many times I happen to come back to them as an excellent guide. So I also update them continuously when I miss something. I still keep the articles short, because I personally want to read the essential information and not the fiction around it.
Women
Until now I have been passive about women because it has never been my priority. But instead of waiting to see what woman picks me up, I've decided to take my destiny into my own hands in that regard as well.
I dedicated the winter, spring and summer to training in picking up women and practicing relationship dynamics. I have shifted significantly in those months. So much so that I outperformed friends who considered themselves experienced. I plan to continue my education and training... I decided to find a suitable lover, and thanks to my hard and systematic work, I did.
There are many YouTube channels on the topic of male-female relationships. Some are downright feminist, some are devoid of essential information and ideas conveyed, and some are just advertising bullshit. However, I have come across two channels that present true information without the frills and bullshit around and are also easy to listen to:
I guy - contains videos by a Czech and then re-dated videos by an American author
What I've tried and learned
I have tried the martial(defensive) art of kravmaga.
I learned the basics of surfing and bodyboarding.
I learned how to skateboard.
I've effectively picked up women.
I took a Latin Bachata dance class.
I tried the programming language Rust again.
I got to know other cities, countries and people.
I learned some Polish and German words.
During the summer, I learned basic Spanish every day using the app Duolingo.
Thanks to my job, I had another chance to become more familiar with the PHP framework Symfony.
Again, I had the opportunity to install proxmox on several physical servers.
Are there only successes?
Throughout the year, various new problems came up and more often than not, I had to solve them quickly and creatively. Logically the more you do the more problems appear. It's enough to disrupt one's plans and bring one's mood down. If you don't want to have problems, you shouldn't do anything. So the only solution is to anticipate the problems coming and plan so that there are reserves. Of course, with time one learns to solve problems better and even prevent them. So the next time in the same situation, the problem will no longer appear or you will consider it trivial.
More photos for example see my Instagram.
Články na podobné téma
Newsletter
If you are interested in receiving occasional news by email.
You can register by filling in your email news subscription.
+