How to connect a computer to a mobile phone running Android
May 21, 2017
The interconnection of one device with another device is a problem that has persisted since the beginning of the production of different devices. There are different expectations on the interconnection of devices, but gradually the demands of users are getting bigger and bigger. It is no longer enough to just synchronize contacts occasionally. The phone is a full-fledged device, and so seamless integration into the ecosystem of other devices is also required. Connecting a mobile phone to a computer can make work easier.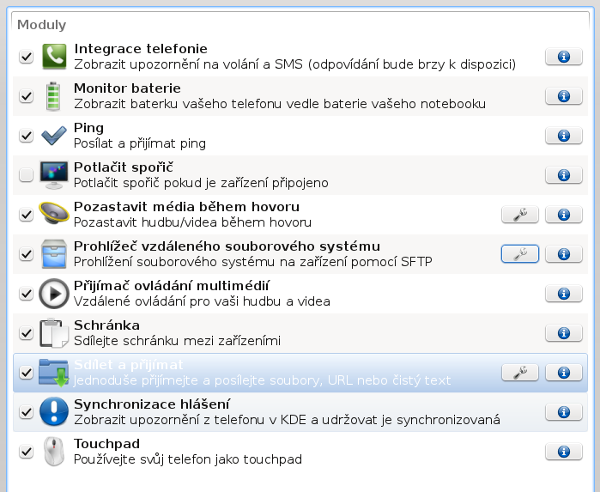 Mobile phone The Open Moko Neo FreeRunner, could also be used as a standard Bluetooth keyboard and mouse, for example. Which was possible thanks to the phone's openness and good support for development tools. However, there are no such options with today's phones (2017). Therefore, various applications communicating over a TCP/IP computer network are being promoted. However, most of the applications did not interest me at all, mainly because they were single-purpose applications, non-multiplatform solutions without documentation and standard. All overly complex cumbersome without much utility.
I finally came across an excellent solution that works on my Samsung Galaxy S7 or any other Android phone.
KDE Connect
KDE's model desktop environment that has a high level of convenience offers a simple solution. Just install and run the Where Connect component.
In the GNU/Linux distribution Mageia, you just need to install the kdeconnect-kde package, which adds the necessary program to the system. On an Android mobile phone, the Kde Connect for Android program is installed from google play. Now everything is ready. In case you have set up a strict firewall remember to enable TCP and UDP protocols on ports 1714 to 1764.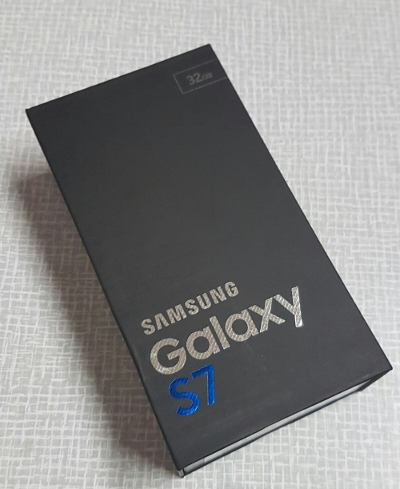 Connectivity
I connected my Samsung Galaxy S7 mobile phone. Just have the phone search for new devices on the local computer network. Ask for a connection and after entering the authentication password on the other device, the computer and phone are connected. After the initial pairing, the phone will always find your switched on computer and automatically connect.
Setup options on your Android phone: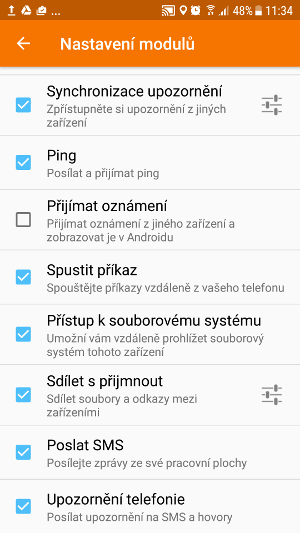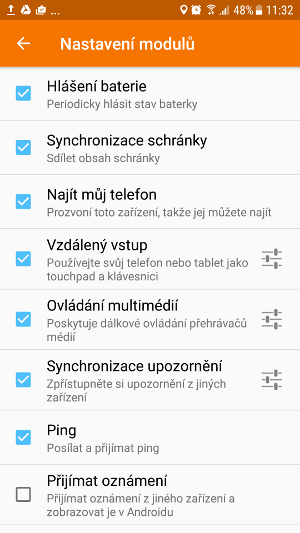 Functions
Connect your phone to your computer to work more conveniently and efficiently. With the capabilities of the KDE desktop environment and its high application integration, the possibilities are immense, so I'll just outline some general possibilities:
Notifications are sent to the computer about incoming calls, SMS and system messages.
Phone ringing - the ability to easily find the phone.
Share clipboard contents between phone and computer.
Convenient viewing of files stored on your phone.
Multimedia control. For example, the Amarok music player.
Stop the media playing on your computer during an incoming call.
The phone can be used as a computer input device - touchpad and keyboard.
Články na podobné téma
Samsung S24H850 monitor
TUXEDO Pulse 15 - Gen2
Data backup
Computer with MSI B85-G43 motherboard and Intel Xeon E3 1226 processor
How to use an SSD and TRIM
Using TouchBook in practice
Disassembled computer disk

Newsletter
If you are interested in receiving occasional news by email.
You can register by filling in your email news subscription.
+