Travel: camping and nomadism
July 11, 2023
Recently, a friend asked me what I would recommend as gear for sleeping outdoors and in the car. I gave some quick advice, while realizing it was time to write up my camping and car nomad experiences. I'm writing this article as inspiration for others and also as documentation for myself, which will be permanently available on the internet.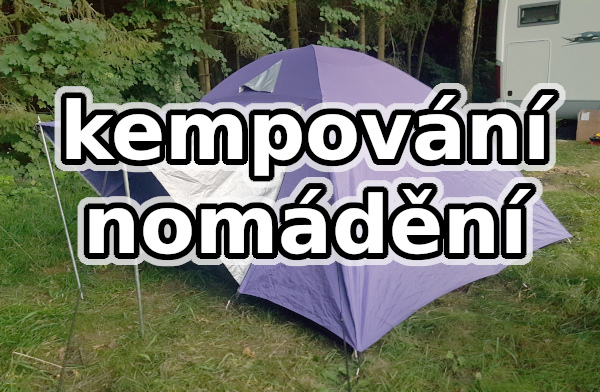 The moment you know what you need to travel camping style, and prepare your facilities and learn how to camp. So you'll find that this way of traveling provides a much more unique and interesting experience than a simple holiday in a hotel by the sea.
Plus, as a digital nomad, you can still work while you do it, so you can explore new places, enjoy the outdoors and make money at the same time.
I've already written about how I've been nomadic in Poland in Wroclaw or on Canary Islands in Las Palmas. When people hear an exotic destination they have a vivid imagination, often picturing a holiday. But most of the time it's different. When you travel nomadically, you have a similar background to the home-like mode, only it has an advantage, you can spend your time exploring a foreign country or taking advantage of the local weather. This makes it much more efficient if you want to travel and explore new places.
However, camping or nomading with a car is different. And for most people it's hard to imagine. That's why I decided to pass on my experience.
Type of travel
You can travel on foot, by bike, by public transport or by your own vehicle. I like to travel A car for tall drivers, which provides plenty of space. I can fit a lot of stuff in it, including my bike. You can sleep in it. People of average height sleep in it routinely, I only sleep in it in a pinch. So I put the important stuff in the car: sleeping bag, food, laptop and the Duratec Torain C1 29inch mountain bike. and the next day I can explore another place.
You can rent a cabin or a room while traveling. Or just sleep somewhere in the countryside in a meadow or forest. In the woods you will appreciate especially the darkness and quiet. The middle way is to sleep in campsites, these have bigger and better facilities and therefore comfort. Plus, they still have the advantage that you don't have to arrange anything in advance.
The two main advantages of travelling and camping with a car are:
you can see more places
it is significantly less expensive
you can fit a lot of stuff in your car
After all, how I
cheap-travel
already wrote.
The park4night website and mobile app can make finding a campsite easier. It shows campsites and car parks not only in the Czech Republic.
Browse
The first thing to think about is what you need to carry and what you don't. Because without basic equipment you won't be able to function and at the same time you can't carry everything.
Kitchen equipment
Earmuffs, a cooker with electronic ignition plus a gas bomb is the basics for cooking.
I use a hiking stove and gas bombs, which can also be carried in backpacks when hiking. Gas bombs are typically sold by the 100g, 250g or 500g weight. I buy the largest. The smallest ones are good for hiking.
Of course, you can get larger cookers to fit on large gas bombs, where the smallest weight is a 2kg bomb - this corresponds to the weight of the gas in the bomb. The total weight of a full bomb is greater. Such a gas bomb and cooker is no longer a tourist item, but it is cheaper so if travelling by car it is a good option.
They make different versions of both the ejector and the cooker.
Here are pictures of my gear primarily for hiking:
A set of canteens: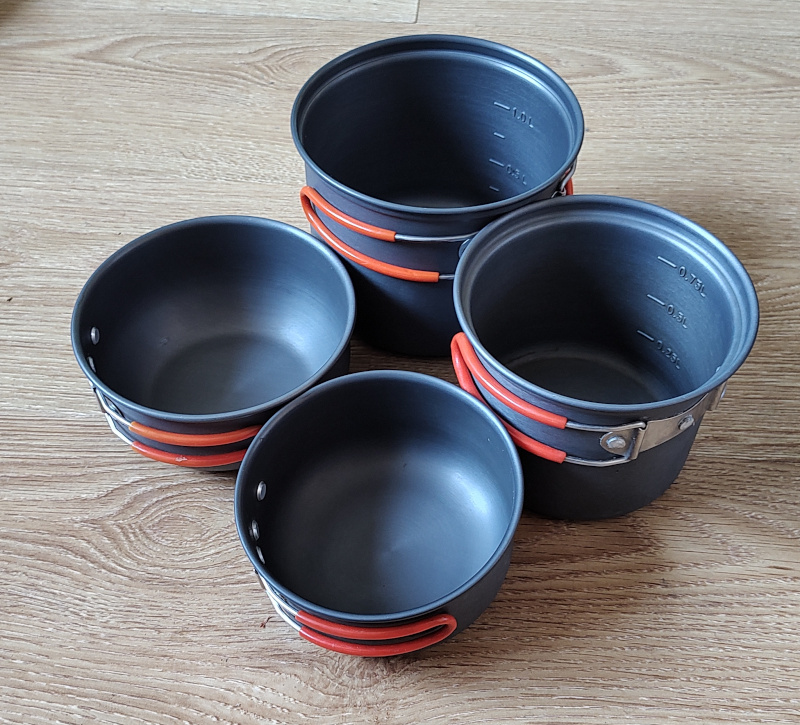 Gas bomb: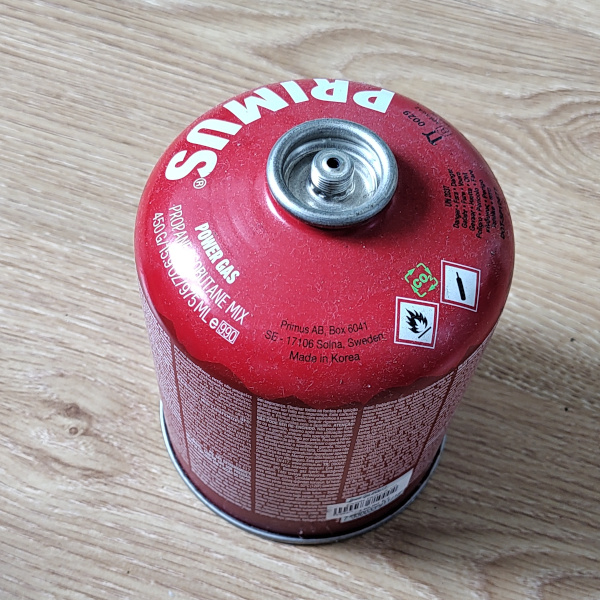 Compound cooker. Such a folding cooker is ideal for hiking.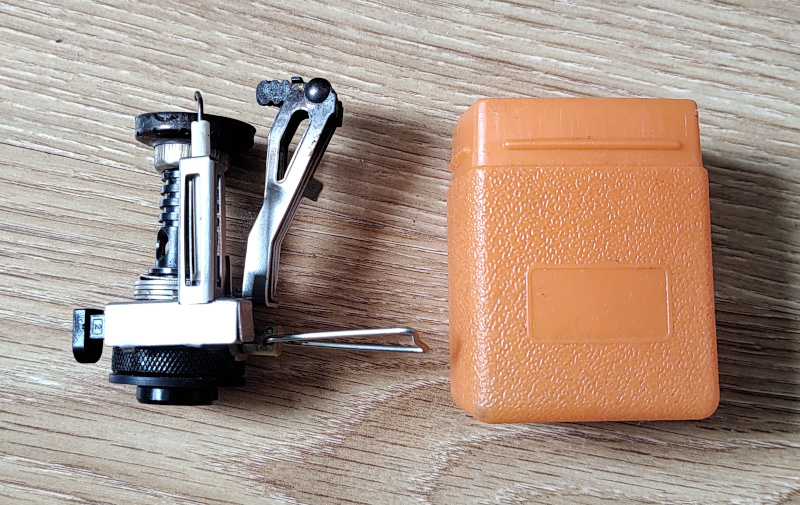 Cooker: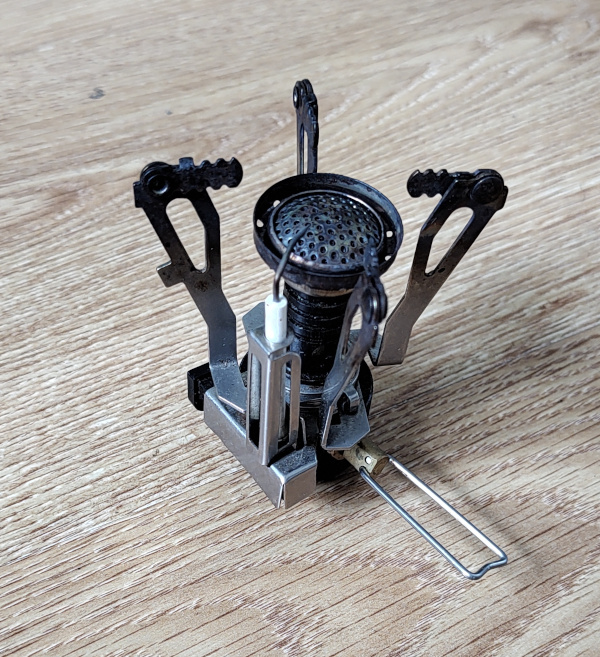 Cooker mounted on a gas bomb: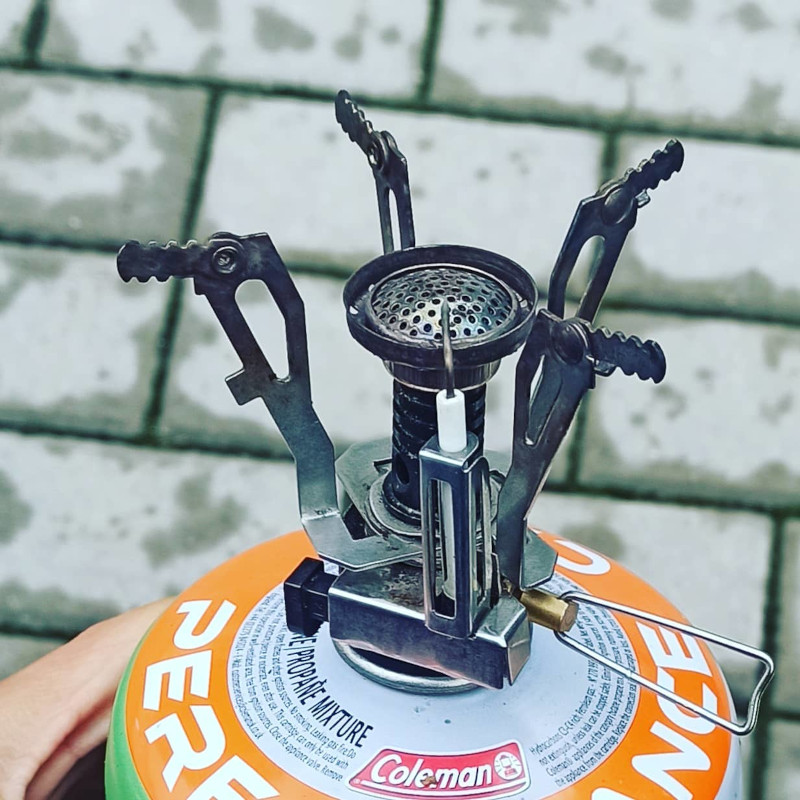 The price of the esus was about 800kč, the cooker 100kč , the bomb from 100kč.
Definitely get a cooker with electric ignition , because then you don't have to deal with matches or lighter!
Last Rescue Box
A last resort box, abbreviated LAST RESCUE BOX, is a box where you keep things to help you solve a problems. In this box I place:
scissors, thread, needle
a safety pin
sickles
ibalgin
Ibalgin comes in handy the moment you feel sick and need to get somewhere. Or when you have had a hard day and you have a headache, then after ibalgin you will sleep better in such a situation and thanks to it and you're able to function again the next day.
Behavior
If you sleep in a tent or under a tent, you will need this equipment:
tent
sleeping bag
tent - regular or inflatable
a pillow is useful for car journeys
utensils: large and small spoon, fork
sharp knife
strainer
folding stool
trekking sticks
headlamp/battery
tick extraction tool
when sleeping under a tent: a tarp to sleep under and over against the rain
insect spray
toilet paper
folding shovel
folding toothbrush
plastic slippers (no sandals needed)
functional long tank top and underpants
waterproof document case.
sunscreen
blanket
food boxes
small lock - for example, in Spain it was useful for locking a locker on the beach
wire for various uses
thermo box
a towel
I use the thermo box by freezing two 1,5L pet bottles and then for about 2 days the food in the thermo box lasts like in the fridge if the thermo box is in the shade.
Things
A list of things I always carry with me on any trip. And this list serves as my checklist.
On the road
A basic list of things for any trip:
mobile
USB power supply (charger)
headphones
powerbank
Bring along a usb-ethernet reducer if you don't have an RJ45 connector for ethernet on your laptop
food,drinks
spoon
pajamas
notebook
earplugs
toothbrush
toothpicks
Longer journeys
Longer trips:
replacement glasses (contact lenses)
action camera+accessories - I have Eken H9R
handsfree pole, possibly a stand and external microphone)
cycling jersey. Fits all sports and represents.
To make my free time more interesting I take
books
board games
puzzle games
Bike touring
Sebou for cycling tourism:
bike phone holder
bike light
spare inner tube
lock
replacement brake pads,
chain loop, cleaning brushes, cleaning agent
oil
2x trunks
Cycling gloves and head scarf
helmet
light and blinker
cycle jersey
Here you will find
GPS route records
from my trips
Power
I carry a 10k mAh powerbank that lasts 5 to 7 days for charging the phone if the phone is only used occasionally as a map. However, it typically lasts me a maximum of 3 days with active use.
I started carrying around an old car battery that I use to charge my laptop.
In order to charge the laptop I use a step-up pulse power supply that makes 19V from 12V. I have step-up clamps on one side that I add to the car battery and I soldered a connector to the output that fits to the to my laptop. Originally there was an atypical connector on the Lenovo ThinkPad X1 Carbon laptop. I currently have a standard round connector there, which uses the TUXEDO Pulse 15 laptop for power.
Device photo: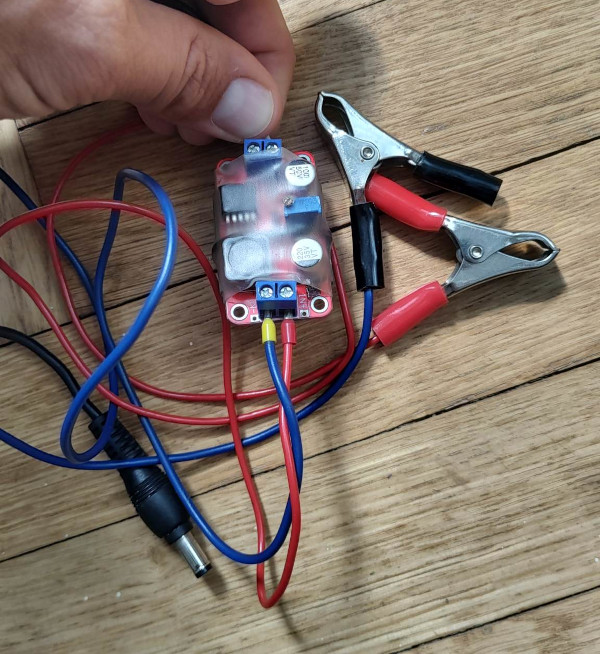 If you would like to know how such a step-up or step-down pulse power supply works read the article: Special USB power supply reducer.
Step-up pulse power supply and power supply for Lenovo ThinkPad X1 Carbon laptop from car battery:

Camping
Especially when travelling, you need to think about food. And when it comes and active spending time e.g. hiking, sports etc. is food is the most important thing, so you need to think about your diet and arrange yourself accordingly.
The basic thing is to have enough water with you. For chundras it is ideal to use 1,5L pet bottles. I also carry water in bottles in my car. Another option is to have 5L water cans in the car, for example.
Food
As a staple food, I have found basic quality foods to provide the necessary nutrients during challenging days and are easy to prepare. They are:
cottage
banana
olive oil
asiatic rice noodles
corn pasta
balkan cheese
gouda cheese
basil, chives
salt pepper
cranberries, raisins
cooked fruit,
peach, grape wine
juice
onions
sweetened tea
When travelling in summer, there are often opportunities to pick fresh fruit. It's always important to keep an eye on whether they are in ripe strawberries, cherries, apricots, apples, etc. When travelling in a car with several people, it can be interesting to take a grill with you and cook a steak on the grill. In addition to this, you can I'll cook potatoes or rice, of course.
You also need to remember the sources of fibre and therefore provide yourself with vegetables. I like to buy cucumber or iceberg lettuce. I can even make a delicious salad with onions, oil, and baloney or mozzarella on the go.
As a dietary supplement, I always carry vitamin C, which is a great antioxidant and helps with recovery after a tough bike ride.
For emergency food I have a tin of beans or a tin of fish which I eat with onions and bread.
I eat bananas or other fruit during the trip and then when I get back to the campsite Then I have cottage cheese because it is a great source of fast protein, or I use it as a better protein supplement. Then I have a big main meal.
For breakfast I typically cook rice pasta to which I add olive oil, onion, balkan(feta) cheese and gouda. I season it with lovage or basil and of course salt and pepper. For dinner I make corn pasta with similar ingredients. If fresh corn is available I cook and eat pasta with it as well.
Definitely don't forget to supplement salt because if you have an active day, you will have increased salt consumption and salt is essential for the body to function.
Sometimes I cook porridge with 1/4l milk 5 handfuls of oats. After cooking I add fresh fruit or raisins or jam to it.
Fried or boiled eggs are good to make in ešeus. Or try making an amolette as well. Again, eggs are a great source of energy and protein.
Showering
Outside the campsites, I wash in the river not the pond. In an emergency, if I don't have a body of water nearby, I pour water from a bottle. A good option is to poke holes in the pet bottle cap so you can turn the bottle into a shower.
Internet and communication
Internet connectivity is one of the basic conditions for functioning today. In other countries (Poland, Austria, Spain) it is cheap to buy a prepaid SIM card with enough data for work, unless you need to download large amounts of data.
In the Czech Republic, I've been using an O2 prepaid SIM with datamania service since 2021, which includes 100GB of data per month for 300kč (350kč from summer 2023). (This card is typically sold once a year by O2 in August.)
Otherwise, of course, in campsites, Internet connections are typically problematic and expensive.
For communicating with the Czech authorities, I found it handy to have a Databox service set up. Within the EU, your Czech tariff works under the same conditions/prices.
The advantage of camping in the countryside
If you camp in the countryside, such as a meadow amongst the woods, you will have absolute peace of mind. Especially sleeping in such a place is very good because it is quiet and absolutely dark.
In the Czech Republic there is also the advantage that unless it is a place that is private or overnight camping is forbidden, you can sleep there. So just take out a mattress and a sleeping bag and you can sleep in the fresh air under the open sky. You can then make breakfast quickly and easily on the gas stove without having to modify the place.
The need is to choose a place that is far away from human habitation, away from places where people normally go at night and nobody you won't be in the way and no one will disturb you. The ideal place is away from houses, away from main roads, somewhere among trees or woods, or in the woods on some dead end road or clearing. More likely in a little valley because you can't see it and the wind doesn't blow. It's especially ideal if you choose a place where the sun shines on you in the morning or it's easy to move to after waking up. a place where the sun shines in the morning.
If you are moving by car, it is more difficult to find a suitable spot. Ideally, you should map it out in advance. Often, it's a good idea to look for a spot along a dirt road.
If you don't know where to park and spend the night, a campsite where you can also refill your water supply and recharge your battery is a sure bet. The advantage of a campsite is that you don't have to arrange a spot in advance. Campsites vary: cheap/expensive, ugly/pretty, crowded and noisy or tucked away half empty and quiet.
Always consider the conditions and where you are staying! Under certain conditions, it is it is possible to bivouac in the protected area.
Homing
If I'm going on a long stay somewhere abroad I typically rent a room or apartment. Then I bring along a monitor and an external keyboard and vertical mouse.
Photo of the two-piece keyboard and vertical wireless mouse: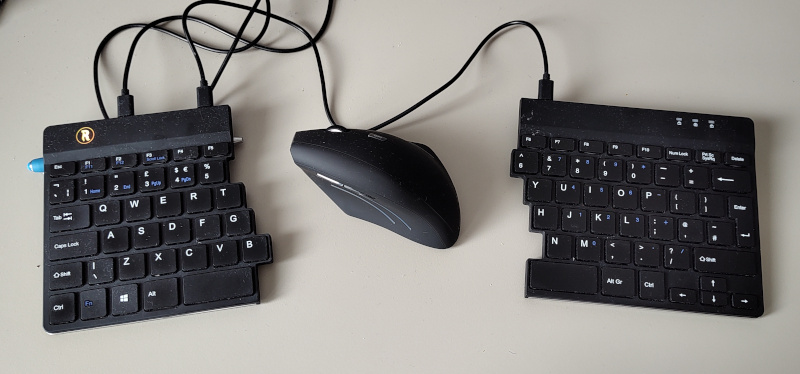 I usually look for accommodation through Airbnb because it's an easy and efficient way to find something easily.
A service like Airbnb makes it really easy to travel because finding and securing accommodation is very simple. You can choose between short and long stays, you can search last minute or plan ahead. Plus, you can stay with locals and be closer to the local culture. My opinion is that Airbnb has revolutionized accommodation and therefore travel.
Video
Photos
For more photos from my travels, check out my Instagram: www.instagram.com/josefjebavy.
Exploring the Place
If you want to get to know a new location, I would recommend using a bike, because you can get around much faster than on foot, but it's just as flexible and has good clearance for-unlike a cumbersome automobile.

Other Resources
Články na podobné téma
Nomadism in Wroclaw
Nomadism in Las Palmas
Payments in foreign currencies when travelling and online
How to start travelling. Where to get time and money?

Newsletter
If you are interested in receiving occasional news by email.
You can register by filling in your email news subscription.
+