Nomadism in Las Palmas
May 25, 2022
In the winter of 2021/2022 I did a long stay as a nomad in the Canary Islands in Las Palmas. In order to keep a record for myself and to pass on the experience and inspiration to others I decided to write up my almost six months stay in an article.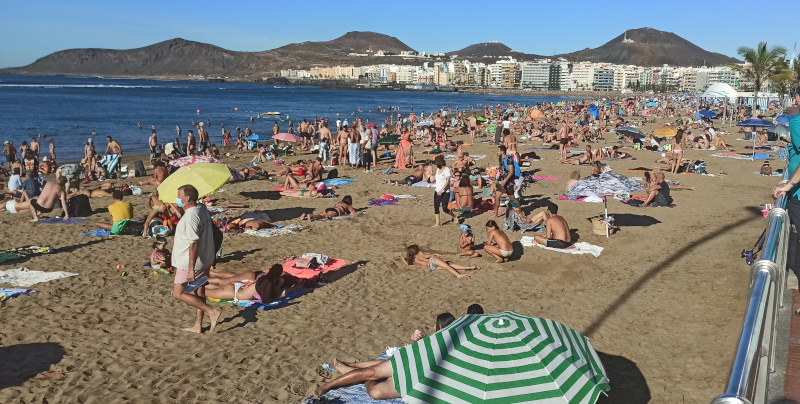 I've had a goal of going abroad alone and for an extended period of time as a nomad for quite some time. That is to say, to work while abroad. Alone because it is often easier and also so one is more forced to fend for oneself and is motivated to get to know the local people. Due to the warming, winter is not what it used to be and so although I have ski boots and new skis, there is little reason to stay in the Giant Mountains. Plus the short winter days are pretty depressing.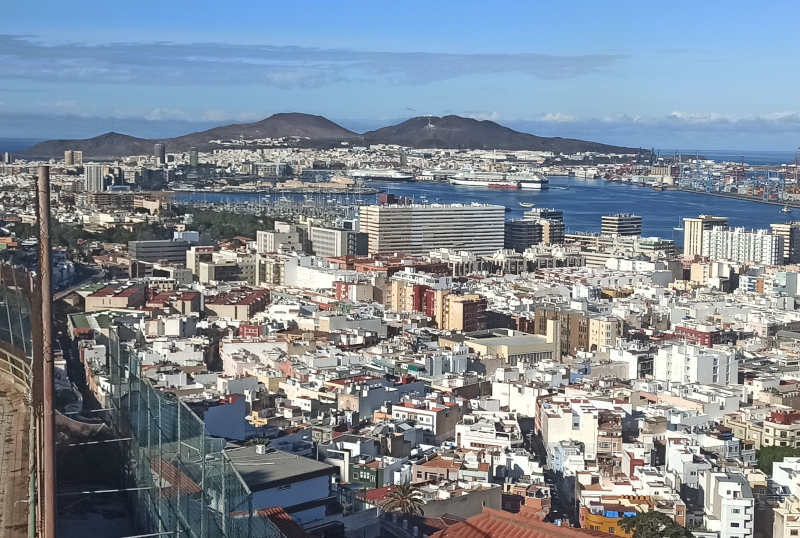 The biggest obstacle to travel and especially in winter today is coronapolitics. On the other hand, it is precisely because of it that it is better to travel.
I also wanted to meet new people, especially nomads, and practice my English.
How I chose Las Palmas
One of the recommended places was Las Palmas, which I had been thinking about for a while and had planned to go there last year. This city is still in the European Union, so there are various organizational and technical advantages to this. It's warm and there's little time lag. Plus it's a popular place for nomads.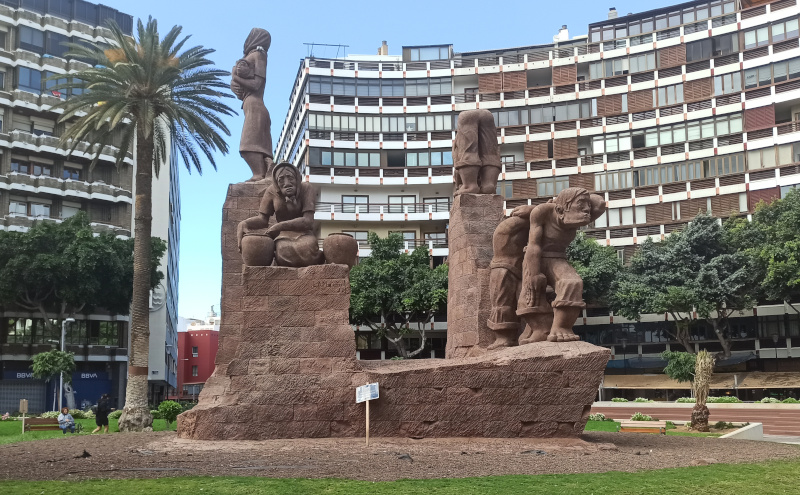 Olet
I couldn't wait to leave.... However, I had promised to school at a bank in Prague for November, so a good date to travel presented itself. I was still considering whether it would be inappropriate to leave at a time when I was just starting a larger long-term collaboration. But as always I was arranged for remote work, so it's actually expected that I'd be somewhere else. So I booked a flight for the next date and a last-minute bed for the first month at the hostel. I flew to the Canary Islands without knowing exactly where the islands were, what all the islands were like, and what exactly I could do there besides swim.
It was a big unknown for me and so I was full of worries about what would happen, especially in connection with coronary policy...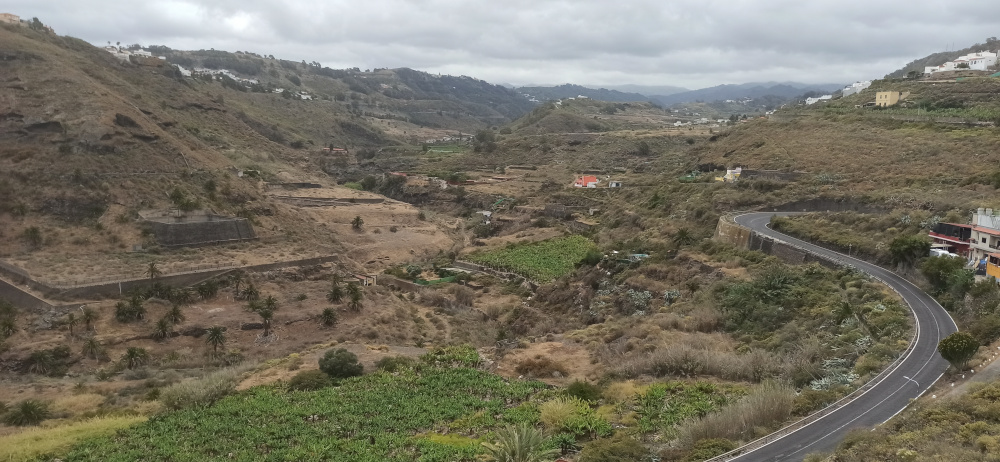 My flight was from Prague. I had a one-way ticket for about 4700kč. The flight time was about 5h, so for me, a tall burly man, the flight was an ordeal. In order to survive at least a little bit, I got up every hour and walked around the plane a little bit. I needed some kind of metallic leaflet to get me off the plane. I had a valid vaccination certificate. Next year, I'm going to deal with this by getting a test and not participating in the vaccination shenanigans anymore. I take good care of my own health.
I still had to fill out some Spanish website where I had to enter the seat number, which was the biggest problem because I didn't know the seat number. Last night I get the seat information and filled it out, if I didn't have it I would just enter some nonsense. However, without this sheet they would not have issued me a boarding pass at the airport.
Housing
After experience, I have to say that the following things are essential for me: a big bed, a functional and equipped kitchen, a washing machine, a balcony or an accessible roof - so that I can go out to the sun in the morning or at lunchtime, for example. Good Internet is also useful, but not necessary as it is often problematic, but see below for more on mobile Internet. And a separate room is needed for a good night's sleep. The location should be near Canteras beach so that the centre of the action is accessible on foot.
I stayed in a hostel for the initial month and a chunk as it was the only available quick-stay accommodation. The hostel was pretty good, just the Internet was very problematic. The hostel was not in the center of the action and was on a hill. For an introduction why not. But it would have been better to start right in the centre of the action, but it's a tax because I had yet to get to know the place. This hostel also had various things to rent: bad bikes, bodyboard, longboard etc.
I didn't get another place to stay until after I arrived, as I didn't feel confident I would be able to arrive due to the coronation policy.
The plan was to stay for about three months. So I booked a room closer to the centre for the second month (January) and a room near the beach for February. Specifically by the beach at the lower end of the boardwalk, so not Canteras beach, but Cicer beach, which is a surfing beach. The place was off the same long boardwalk.
The second place was crazy, no windows, kitchen semi-functional, dust, dirt and cockroaches everywhere and the most expensive. After the first few days I realised I couldn't last a month there so arranged a bed back at the hostel. Before there was room in the original hostel, I hastily arranged to stay in a cowork hostel (KYO hostel) for the three days I needed. This place was of an excellent standard and in a good location - close to the surf beach.
The third month I had a room in a shared apartment. The apartment was not great, but sufficient for me and I could borrow a basketball and longboard from the owner. I extended my stay in this room a total of 2 times. I found this room through AirBnb (easy way for me). When I subsequently extended and paid directly, the room cost me 400EUR/month. But another tenant had a room for 320EUR. Having my own room gave me a chance to sleep very well and I started going to bed early and getting up early.
So in total I was in Las Palmas for over 5 months.
From what I've seen and tried, you can haggle on price. Because I'm a good tenant in the first hostel I got a better price of 7EUR/bed/night (more people in one room). You can negotiate a separate room for 20EUR maybe even less.
Then it just depends on the difficulty and location.
What are other housing prices? A small studio apartment, known locally as a studio, costs €500/month for a long-term rental and is a short walk from Canteras Beach. Short-term studio rentals settle at 700EUR/month.
A nice 3 bedroom apartment for long term rental costs 1000 EUR/month. Although no longer close to the beach, but still within walking distance.
Rent for a room if it's direct and not at Canteras can get up to 250EUR/month.
A house that is not in the centre of Las Palmas can be bought for 60000EUR.
Living
The size of Las Palmas can be compared to Brno. The city has several social centres. Nomads are performing around the Canteras. The community itself organises many events, see more on the website Liveit up Las Palmas The main information and communication hub is through the Slack app.
The town has a well-equipped beach where many sports can be done, more to be described below. The beach is well maintained and has showers and toilets, which are free of charge.
One can also go to other towns or to the countryside.
I started a regular meetup for technical people myself, which we called the Hackers meetup.
photo
Work
I continued working, without any major change. Yes, the facilities were not like at home, where I have a reclining desk designed for standing work and two monitors, but I counted on that. At home I have a desktop computer, when I travel I use a Lenovo ThinkPad X1 laptop .
Working remotely is also possible thanks to VPN.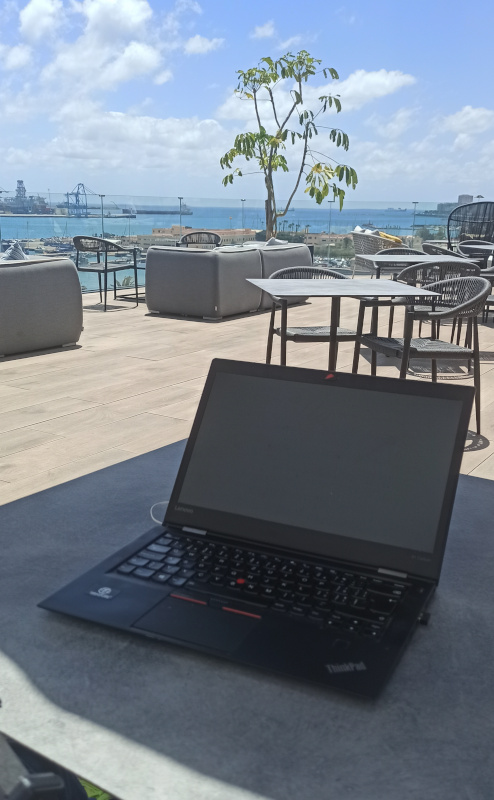 I mostly worked from where I lived. Occasionally went out. I don't seek out cowork. I can focus on work when I'm rested and in the mood, at worst I have to put on music. I've worked standing up. At the Hostel, I set up two desks on top of each other, and in one apartment they had a closet so high that it was just at desk height.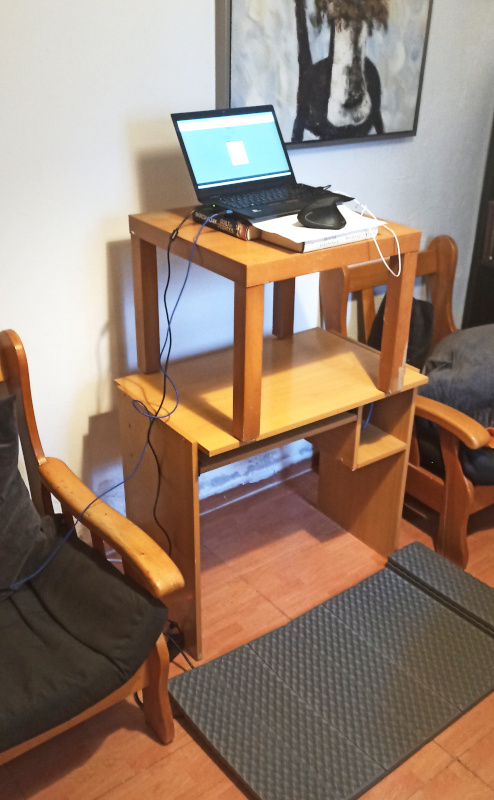 Internet
My Czech SIM with 300GB of data completely shut down after crossing the border. I considered buying some tariff with unlimited data before I left, but they aren't unlimited abroad, so watch out for that! So I activated some sort of one-off package on my SIM and decided to buy a local SIM with a prepaid tariff when I arrived.
When I ran out of data on my SIM, I got a local SIM with data from Vodafone. Tariff for 10EUR for 28 days with 24GB of data, which is more data than I need even for work and a cheap price compared to the Czech Republic. Plus I got a Christmas bonus, later they increased the tariff to 50GB. Plus, the unused data always rolls over, which is a big advantage when you have weaker and stronger months when you need mobile Internet. In the end, when I left, I had about 80GB of unused data, despite the fact that I was also using mobile Internet to listen to YouTube. I should have gotten a SIM right on day one.
I highly recommend everyone, if you are going to be somewhere for more weeks straight get a local SIM. The tariffs are very good in the west of the country. On my return then the SIM had 7GB of data available for roaming for 28days. And soon increased to 9GB. Which I took advantage of on the way back in Vienna.
My plan Vodafone Prepago S. Details of the roaming tariff
I saw an offer of 120GB per month for 30EUR from Liamaya
When I was leaving there was a special offer for nomads: Prepaid card (i.e. no contract and therefore no need for a local ID/registration). The price for the 5G/4G simcard is 39€ per month with:
unlimited data
unlimited voice to Canary Islands and Spain
unlocked and can be used in routers + laptops
can be used for tethering
no roaming
1TB per mounth than change from 5G to 4G
Pre-paid card table for Spain
Food
The food is a crucial thing and therefore the first thing I address. Without a quality diet it's hard to function let alone play sports.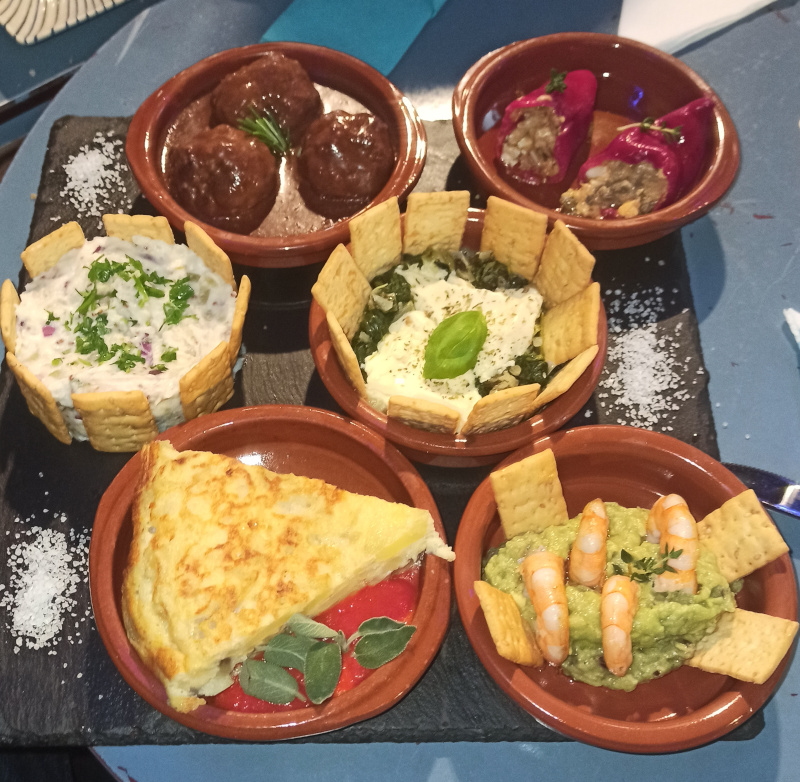 You can eat well everywhere in the Canary Islands. The Spaniards usually cook something with potatoes, which is fine, but you soon get bored of it. I prefer large portions, rich in all sources (sugars, fats, proteins and vegetables), so I often cooked my own food and only went out to eat occasionally when I was away from my apartment or going out with someone.
I've also tried Chinese buffet for example, but that's too fatty for me as everything is fried...
I liked one restaurant: Corte de Venezuela. which has different and interesting dishes. They have small and large portions. And all the dishes there are tasty at a reasonable price.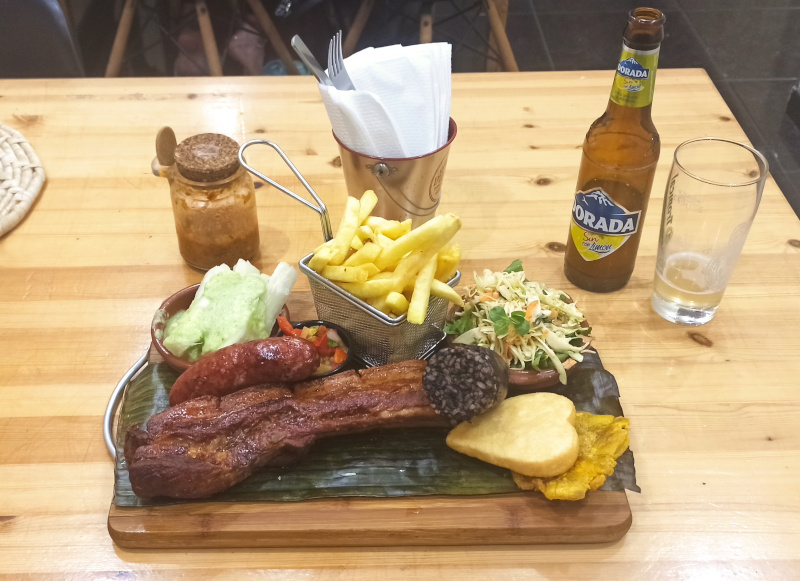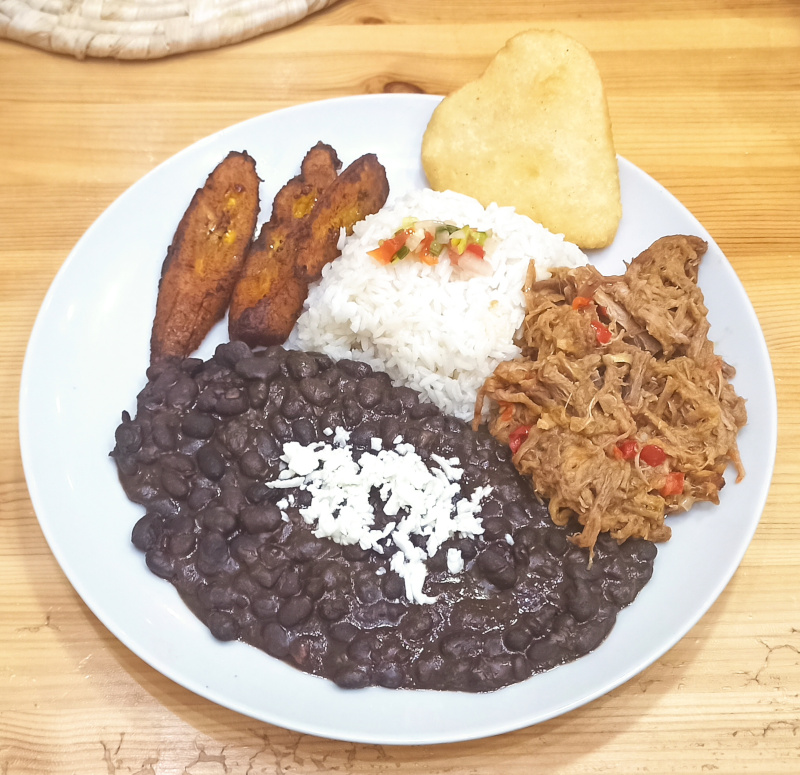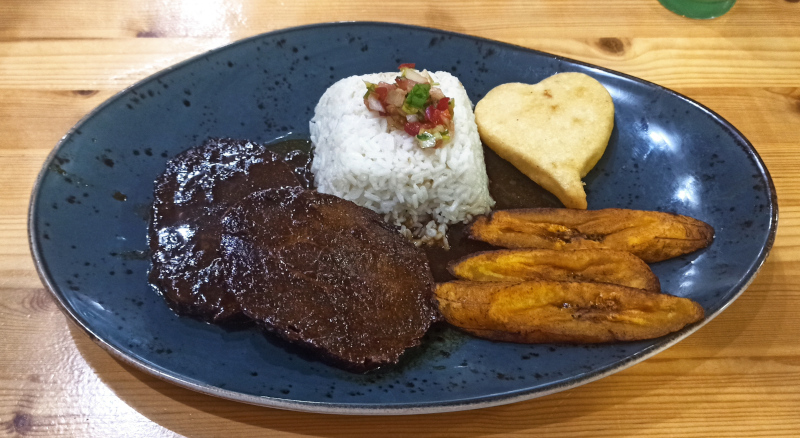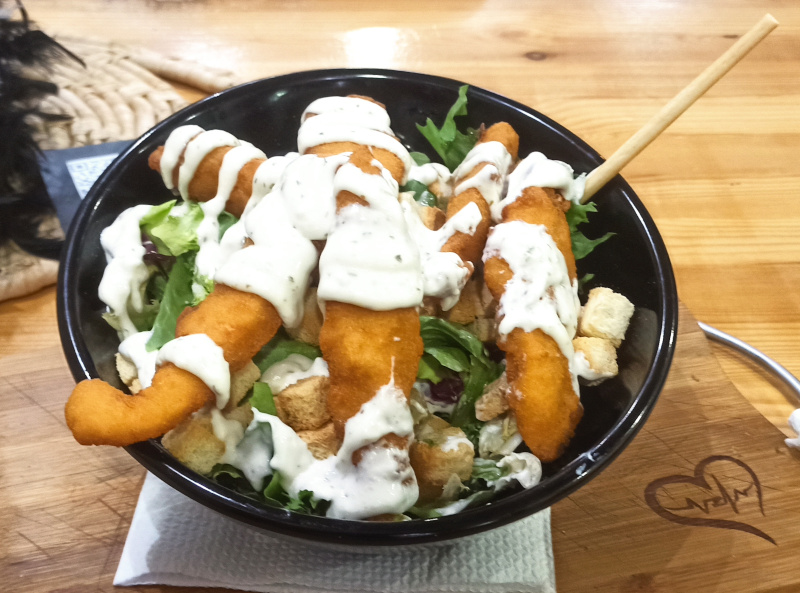 I was given other tips and tried a few other restaurants, but didn't like any of them.
The shops contained similar goods to those in the Czech Republic plus typically local fruit and fresh fish. The most challenging part was finding cottage cheese. However, I can't imagine sporting activities let alone regular training without cottage, which for me is the equivalent of protein. Eventually I discovered that it could only be bought at the Lidl and Mercadona chains.
Typically I cooked something with rice, fish and potatoes, corn (i.e. gluten-free) pasta or lentils with bacon and egg. For breakfast, I typically made oatmeal with fruit.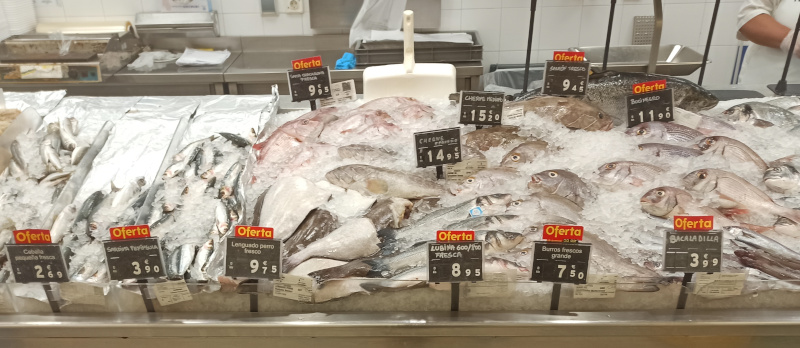 I tried a variety of fish when there were so many options available, plus fresh.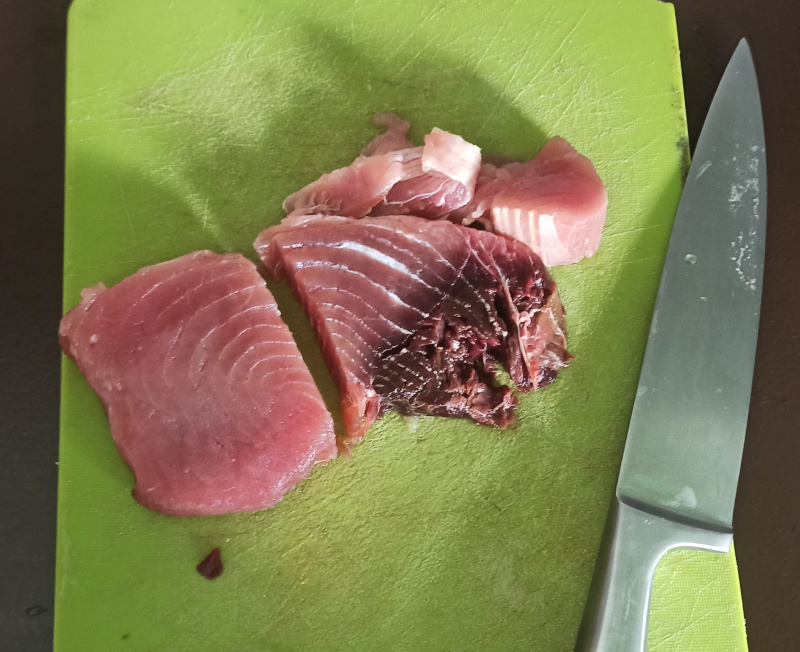 I've had mackerel, sardines, tuna, most often salmon. My favorite was swordfish, which was a tasty fish, well portioned and boneless.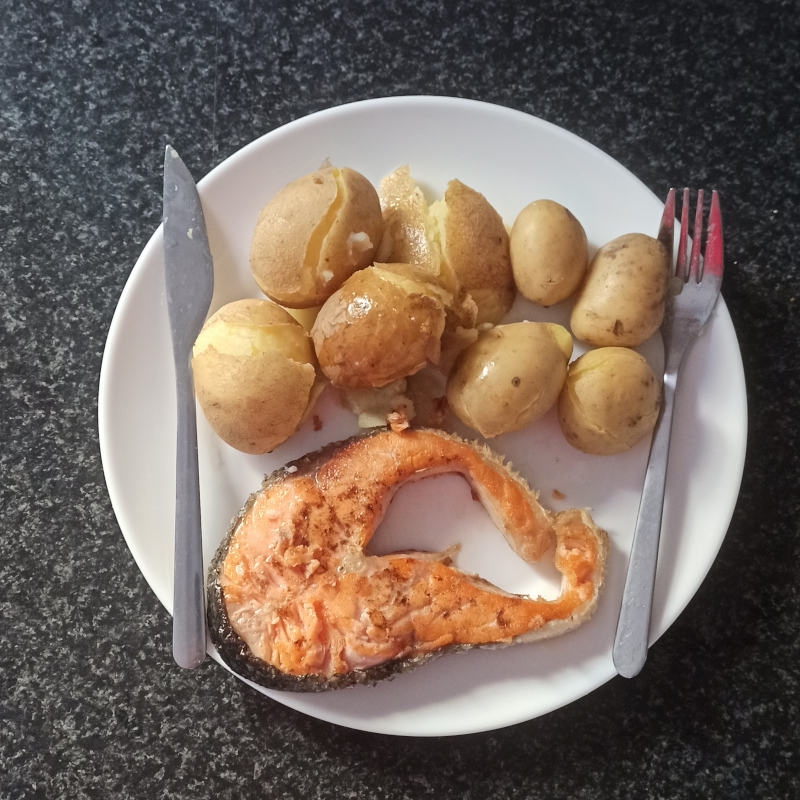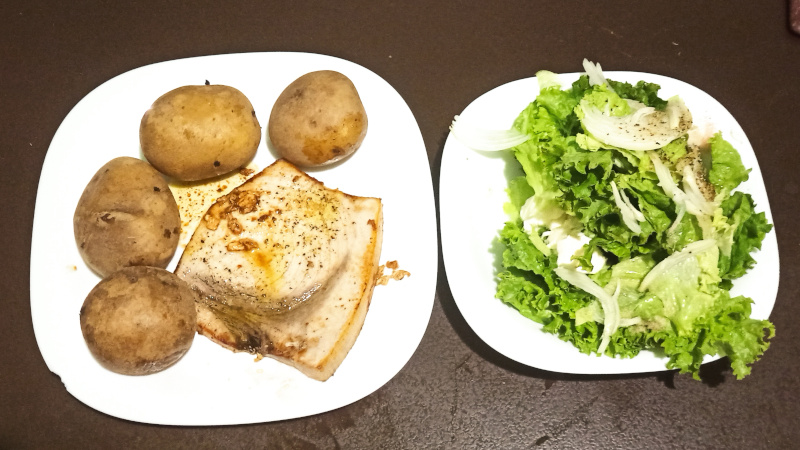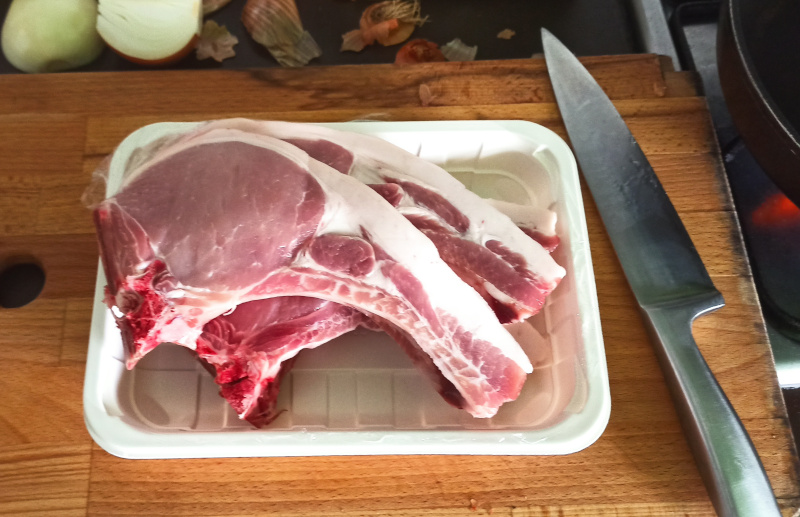 I've often baked pork steak and cooked rice to go with it. It's a very simple dish and if you get away from the strong spices it's also very tasty, you just have to make the meat and rice juicy. Typically I cooked the rice more and the next day roasted the meat and mixed it with the rice and then added cheese.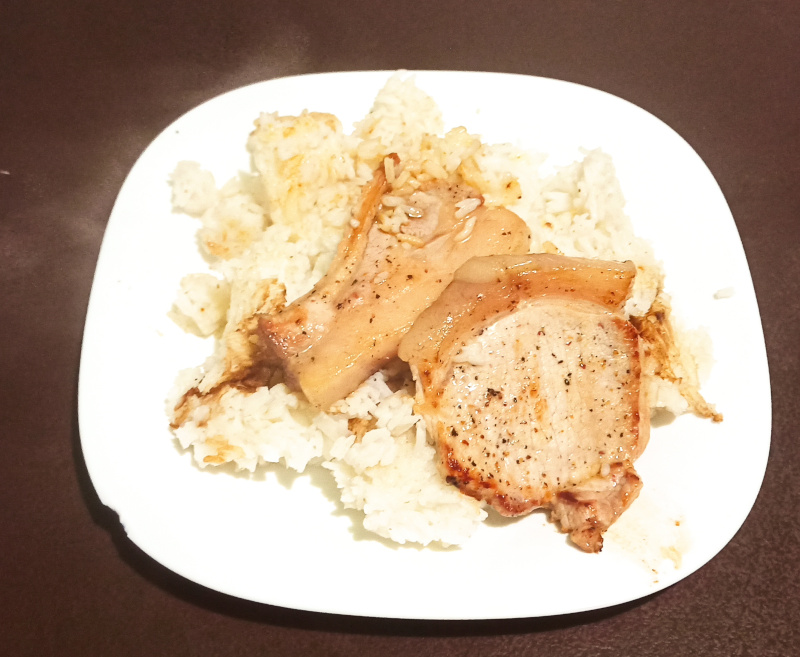 I typically stirred the lentils into the roasted tomatoes, garlic and bacon, so the lentils got a great flavor.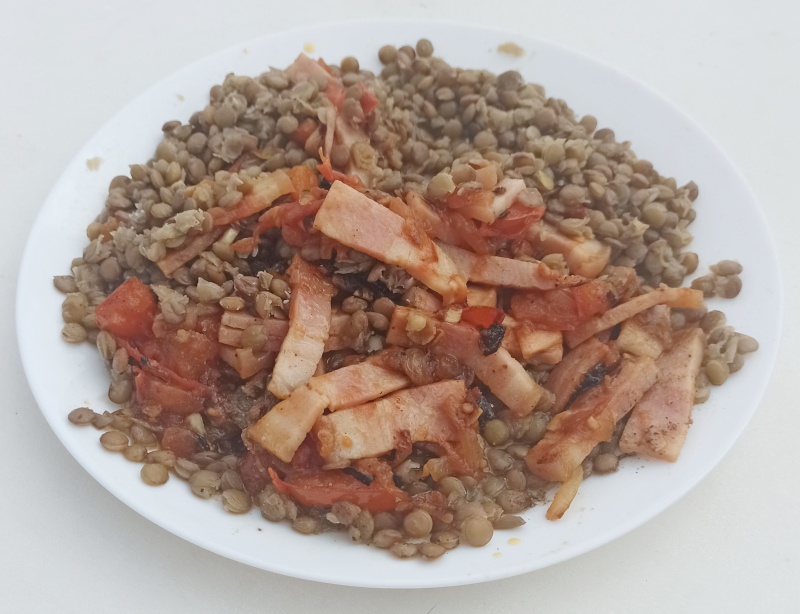 I made a tomato sauce to go with the pasta. In addition to regular cheese, I added local white soft cheese.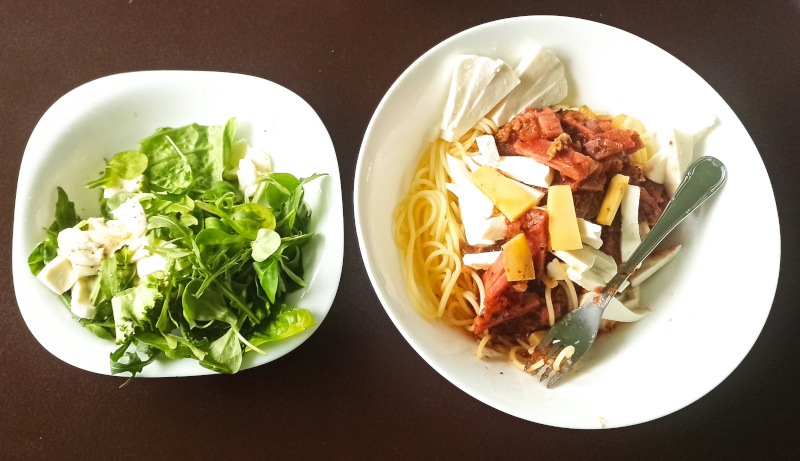 Swordfish or lossos + potato, pork steak + rice, corn pasta.
I even grilled with friends once: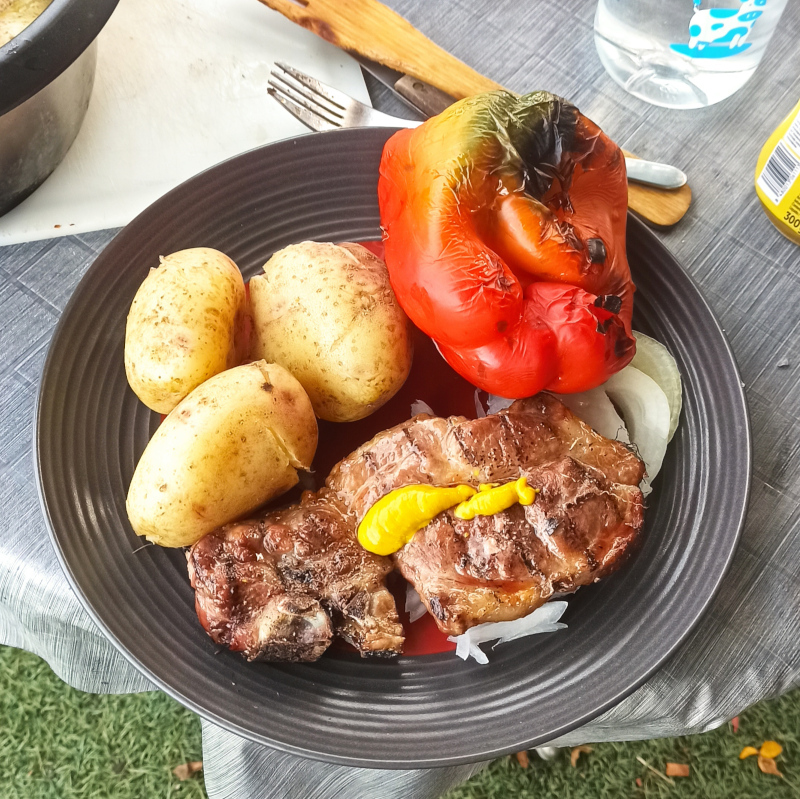 Local fruits
There was plenty of local fruit, typically fresh and sometimes straight from the tree. I tried bananas, oranges, guavas from a local garden. I often bought Kaki in the shops. And on bike rides, I picked and ate Nispero.
Guava: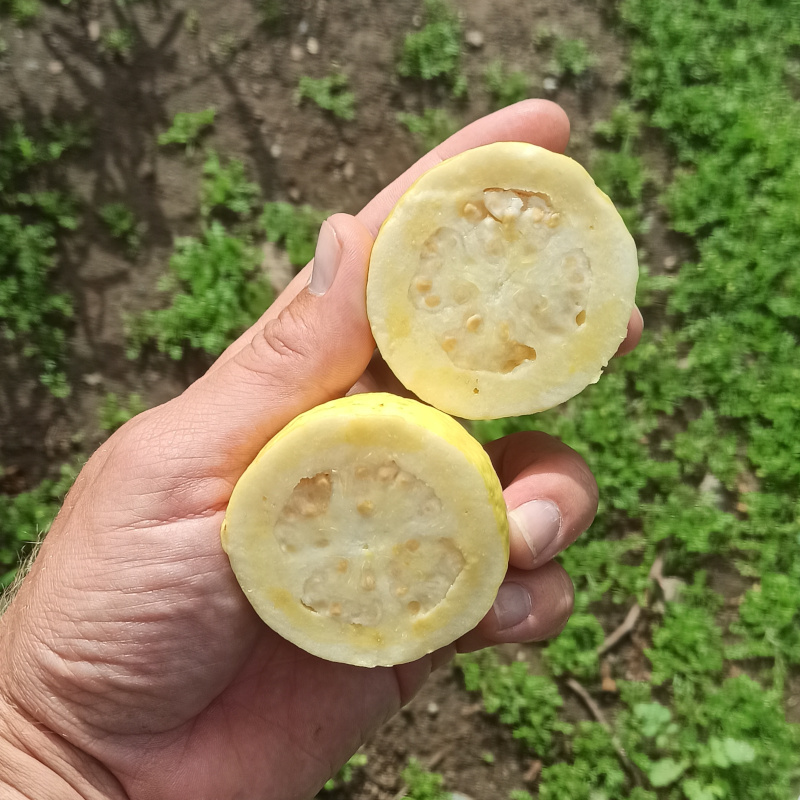 Nispero: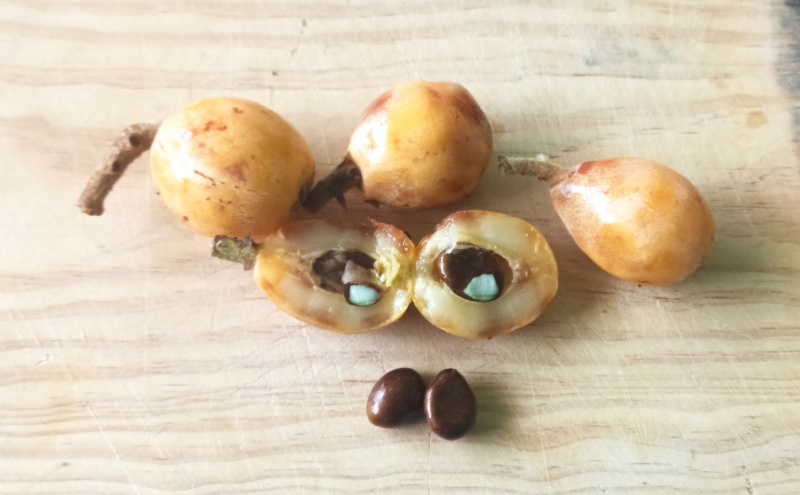 Sport
Las Palmas is a fair-weather and well-equipped city, so you can do a great variety of sports here. And often you don't even have to be a member of a club or pay for a season ticket.
Sports that I used to play in LasPalmas:
swimming
cycling
skateboard
bodyboarding, surfing. kite surfing
volleyball
basketball
yoga
frisbee
exercise/workout
diving/snorkelling
slackline
dancing
arrows, pool
hiking
Swimming
I always went swimming in the sea. Even though there are swimming pools available. I like nature, I like being outdoors and swimming in the sea is also more interesting. The sea floats due to the higher density, so for beginners and training technique the sea is better. For some people maybe the sea is cold, but if you swim you will be glad for it. And in nice weather you can always warm up or even burn on the Sun.
Personally, I trained and honed my technique mainly kraul and breaststroke style.
For swimming, the smaller beach of Alcaravaneras was better because it's in the shelter from the open ocean so there are no waves. The most popular beach Canteras was suitable for swimming training only at low tide, when it was protected from the waves by a natural barrier. Those who wanted to play in the waves could go to the surfing beach of Cicer
Biking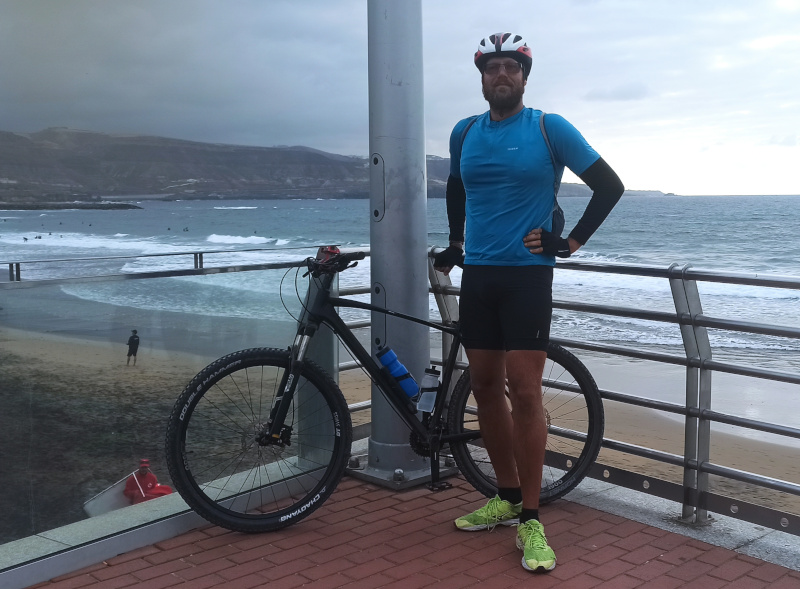 Cycling is favored in the Canary Islands. Motorists are considerate of pedestrians and cyclists alike, and there are interconnecting cycle routes across the city.
The island is suitable for road and mountain biking, but choosing the ideal route will be tricky. You'll find both good roads and paths designed more for walking. There are flat stretches along the sea, then high steep hills in the centre of the island.
I rented a mountain bike from cyclo mountain bike rental for 5 days for 70EUR. I opted for a more modern/better mountain bike which was big and had disc brakes. Subsequently, explorer style, I rode surprisingly quite a few kilometres and in the hills! So I climbed an uncharacteristic amount of metres for me.
My last cycling route:

More GPS route logs.
Skateboarding
A skateboard was available in the first accommodation and in the last accommodation. So I first stepped on a skateboard in Las Palmas and started learning to ride. Specifically, it was a longboard, which is more suitable for beginners and is good as a convenient means of transport around town. However, you don't do tricks with it.
Riding a skateboard is a great workout for balance and for strengthening your ankle. It is a much more fun and practical way to how to rehabilitate your ankle after a fracture.
I used a longboard very often to get around town faster. At the same time, it's good training for surfing.
I want to continue skateboarding. And then I bought a longboard in the Czech Republic.
Surfing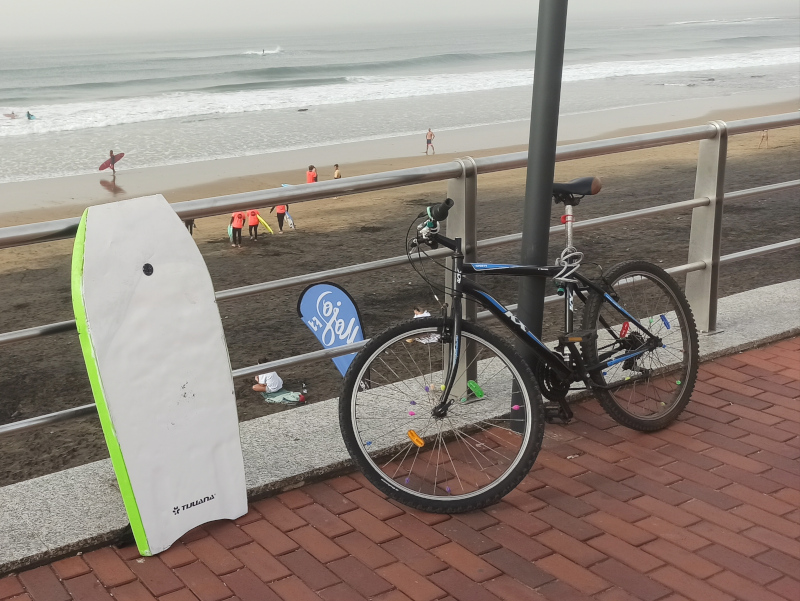 I'm a fast learner, as my ability to start skateboarding has already shown. Surfing has been a real challenge though!
Before my first surfing session, I was familiarizing myself with waves as a swimmer and through bodyboarding, which is similar to surfing, but you don't stand on this board but just lie down, plus you have little fins on your feet.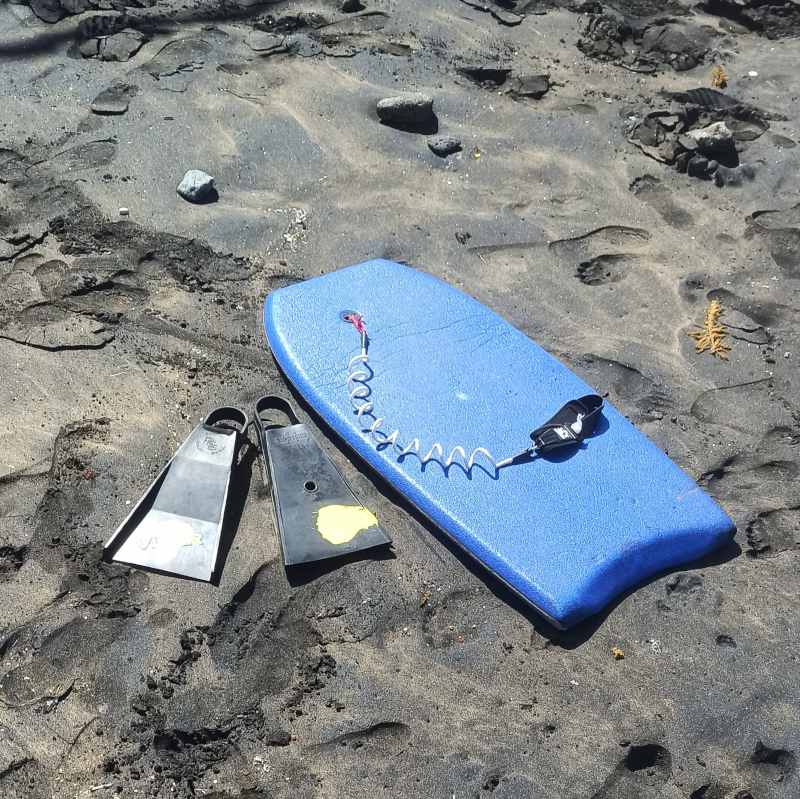 First, I paid for 5 lessons at Buensurf and then I paid for a monthly membership to Surfboard Rental California. The official terms are 20EUR/record and 80EUR/month but they didn't ask me to do that. They only wanted 70EUR/month in cash.
In my independent training, I typically went three times a week on weekday mornings when there was more room on the beach and especially in the water. I trained all morning in the style of being in the water for a certain amount of time and then relaxing on the beach. This is because when practicing a new skill it is essential to be rested.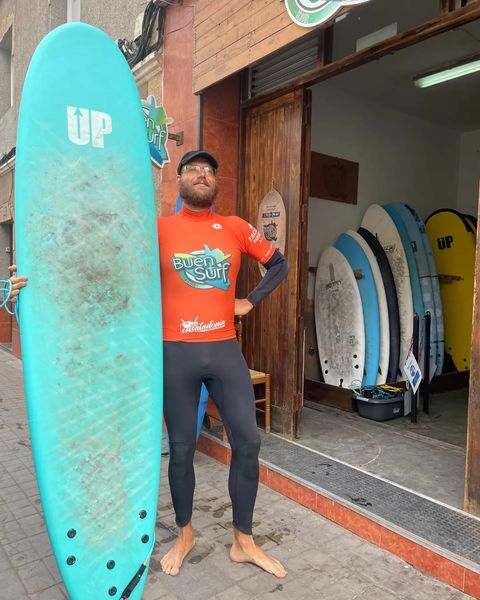 Volleyball
Beach volleyball is played every day on Canteras beach. On this beach, there are poles between which you just need to fix a net. The nomads have their own net, so every Sunday they held a regular beach volleyball event for everyone who came. They also typically came to play on Saturdays and often during the week.
I played volleyball back in high school. And when there's an opportunity to play beach volleyball I'm always up for it. Personally, I prefer the three-on-three version. When I lived near the beach then I went to play almost every day when I didn't have another demanding sporting activity.
Basketball
Even in elementary school, I went to basketball practices. In Las Palmas, there are well-maintained basketball courts everywhere, so I welcomed the opportunity to play. I managed to join a group of Spaniards who came to play very often, but they were very good, fast and played hard, so because of my other sporting activities I I decided that I would only go for individual training. So I used basketball as a morning physical activity.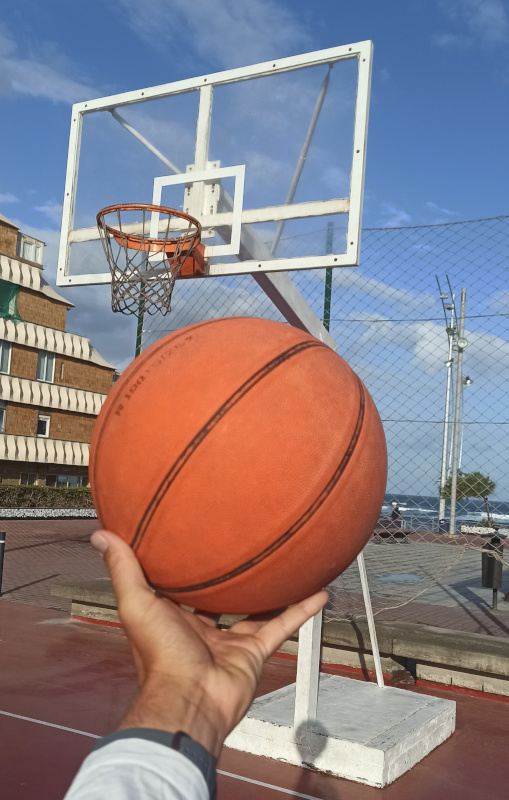 Yoga
Yoga is now very popular, especially among women, and in Las Palmas almost everyone is practicing yoga. I like stretching, and yoga is largely about stretching, so I started going to yoga regularly, and for a while I was probably the most active participant, because the morning yoga typically after late-night parties, the girls couldn't handle it. So I went to yoga about 3 or 4 times a week for two months. The yoga classes at LasPalmas are provided by several instructors.
Yoga is an individual yet social activity, so I loved it. I also had the opportunity to meet new girls. But I still did stretching individually because I need to properly stretch all the muscles in my body, especially if I do intense sports.
Frisbee
Once a week there was a frisbee game, but in the early evening. And I don't enjoy intense activities in the evening. I've been transitioning into the evening, eating dinner and going to bed early. So I've only participated in frisbee once.
Gym/workout
There are workaout courts all over Las Palmas. There is also an outdoor gym with weight machines at one location: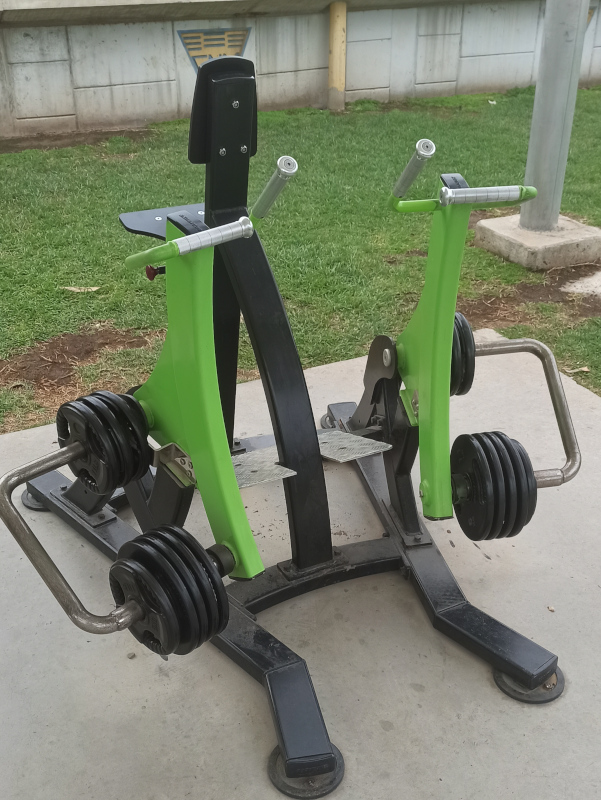 Snorkeling/Snorkeling
All you need for diving is a pair of swimming goggles and where there is a barrier or a rocky bottom you can see many nice fish. I have used a snorkel once, but as a good swimmer who can hold his breath, I find a snorkel rather a nuisance.
Slackline
I've also tried the slackline: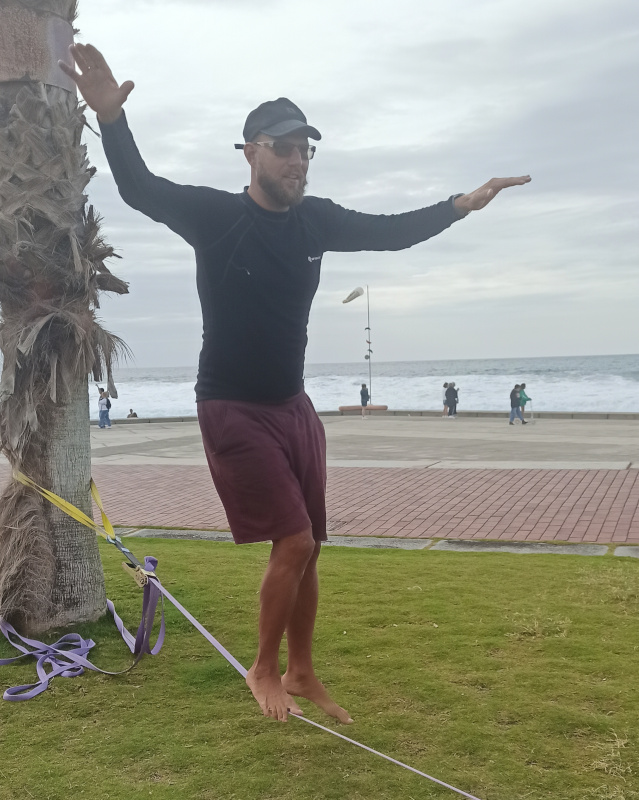 Dancing
There are Spanish dance lessons. Typically Salsa and Bachata. I love to dance and went to dances extensively in high school, so I welcome learning a new dance. In the Canary Islands, I learned and mastered a dance called the Bachata.
Darts, Billiards
I often played pool/billiards. My favourite game was darts. I tried to play darts regularly and it was my favorite activity when I was at the bar.
Languages
Some of the people who arrived already knew some Spanish and many people expected me to learn Spanish when I arrived in a Spanish-speaking area. I started to learn gradually, but learning a language is a long process and you need to choose a comfortable method. So I waited, as I was recommended to do by a Spanish teacher...
Since I was living in another country and where there was an international community of people, I not only had the opportunity but also the necessity to communicate and therefore practice my English. Talking about what interests me and discussing with friends is a much better way of learning a language than going to school!
Boat party
There was a regular boat party in Porto Rico. I participated twice. It was an interesting experience. Lots of nice girls, food was provided and the opportunity to swim. If there had been rock music it would have been perfect. I like events where there are different activities and you don't suffer from hunger. Almost like the events I used to host in high school, like birthday parties or new year's parties.
Porto Rico sun loungers on Inglés beach: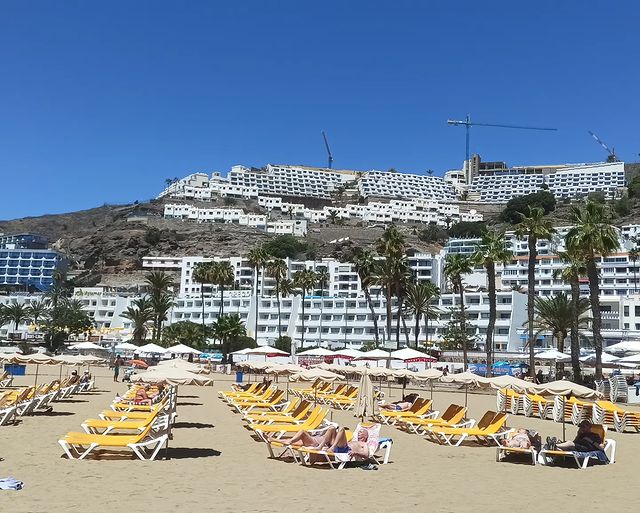 Clothes shoes
For buying clothes to wear, I like Decatlon and Insider/ISDN. I've also discovered a store with great shoes that also has size 50 shoes.
Hosts
Despite the winter, Las Palmas was alive. Every Tuesday, there was a gathering for nomads at the SanRemo bar and the Imaginario bar, which also had carraoke. I still discovered a few other places with karaoke and quite enjoyed going to karaoke. The places I went to for darts and pool were Garage 32, PollFiction, and La Tienda.
Transportation
I mostly moved under my own power because I like physical activities and freedom of movement. However, for some journeys I used local means of transport.
Transportation by a local person's car from the airport cost me 20EUR Taxi to the airport cost me 30EUR
I mostly got around the city by longboard, bike or on foot. I used the longboard a lot to get to the beach.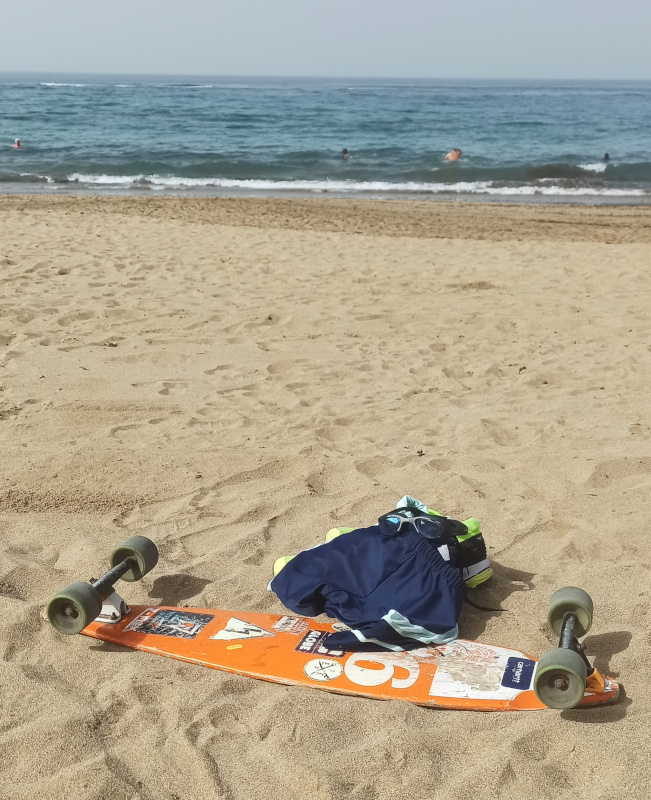 For longer distances I used public transport, specifically the bus. These city buses are yellow. I bought cards for a certain amount and charged credit to it. One ride was about 1EUR, you can change buses and go back within an hour if you take a different line :)
There are blue buses all over the island. You can easily take this bus to other towns including Mas Palomas and Porto Rico or to the airport.
Finance - cash
People here much prefer to pay in cash. And some places don't even have payment terminals. That's why it's always a good idea to ask beforehand if it's possible to pay by card or, for example, send a payment via Revolut. Alternatively, if they are willing to accept payment by bank transfer.
You can withdraw cash from ATMs at various banks. However, typically they will ask you for 2-4 EUR per withdrawal and the withdrawal is limited to 200 or 400 EUR for example. So if you pay for your housing in cash, then you have to withdraw more times. But I have discovered an ATM that does not require payment for withdrawal and has a withdrawal limit of 600EUR. It is an ATM of Deutsche bank.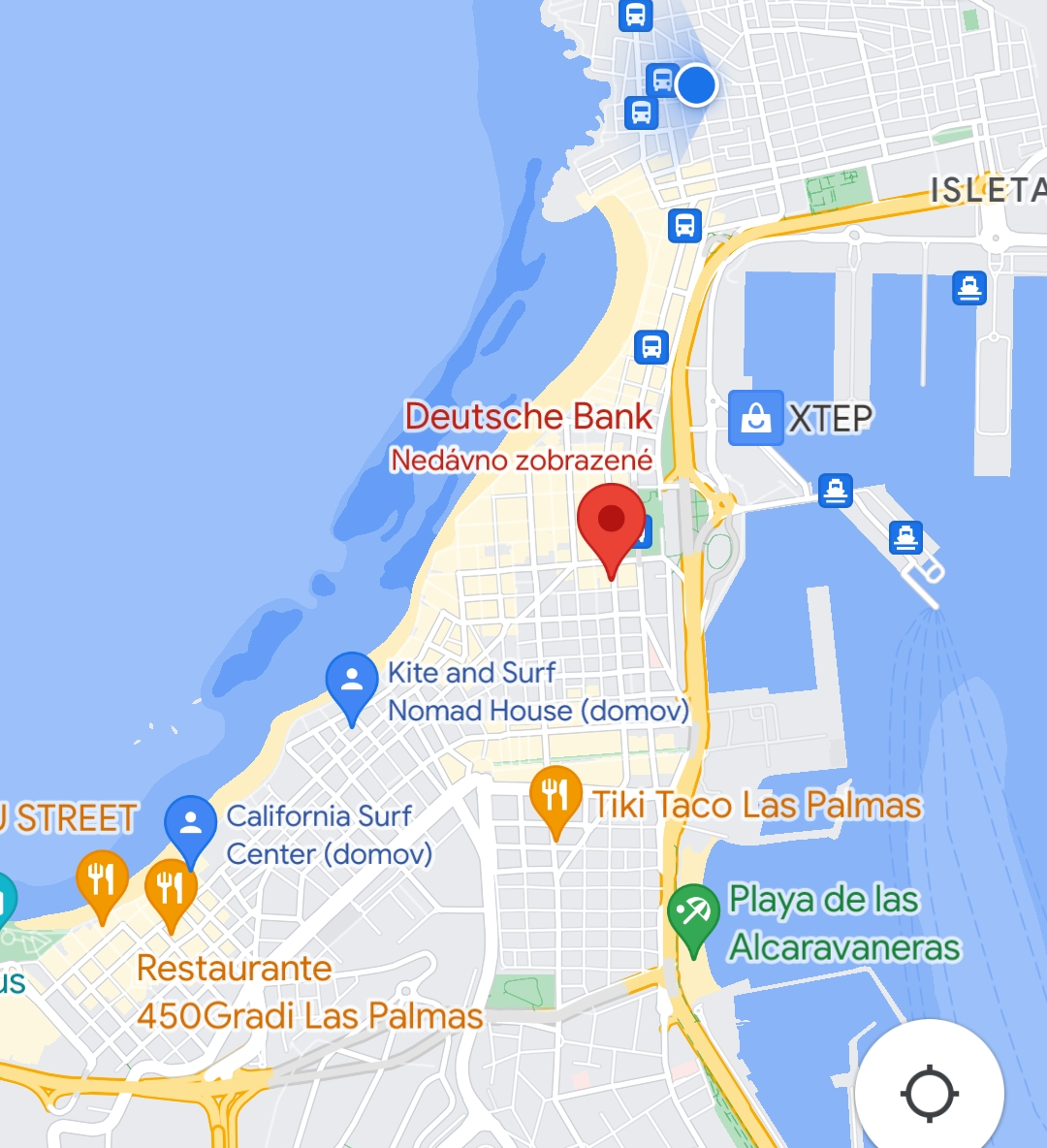 Definitely check out the article payments in foreign currencies: payments in foreign currencies.
Massage
One of the best passive regenerations is massage. Because I sit at the computer a lot and play sports, I have been getting a massage about every two weeks and have tried Thai massage here
Girls
My primary focus is on personal development and work equally, so it was the first part of my stay in Las Palmas. However, in the second part of my stay I was more in the centre where it was alive and so I took more time to take advantage of the abundance of space.
I started hitting the bars relatively regularly. However, typically went to bed early and drank non-alcoholic beer. Hold quality sleep is important, especially if you have a busy daily schedule and especially regular workouts.
The girls could pack in the bars, but that's not my favorite place. I prefer to pack women during the day anywhere, at the beach and during various other social and sporting activities.
The main communication tool in Spain is WhatsApp In total, in three months, I got 62 contacts on WhatsApp, with whom I tried to arrange meetings. Another smaller number of contacts I got on Facebook and Instagram.
On average, I had about one to two dates a week. When I left, there were still a few contacts I hadn't managed to meet.
The biggest problem was that I couldn't remember the girls' names or even their faces. But with so many new people I was meeting in Las Palmas, it's not surprising. After all, there's no point in forming a relationship with a girl who immediately gets offended by not remembering, for example, a name. (Once even a man was offended.)
Favorite place I've arranged to meet: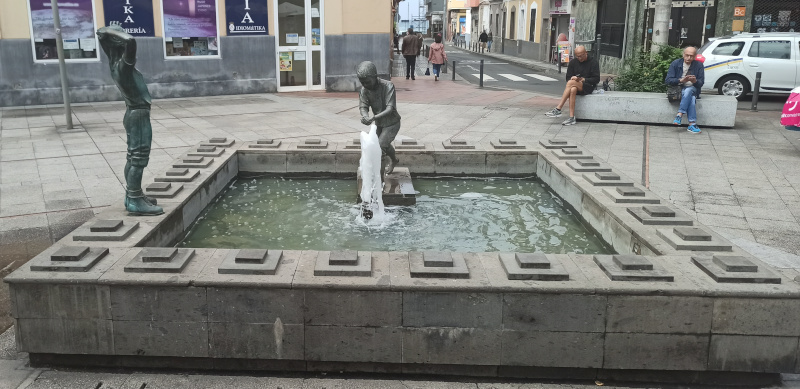 Beaches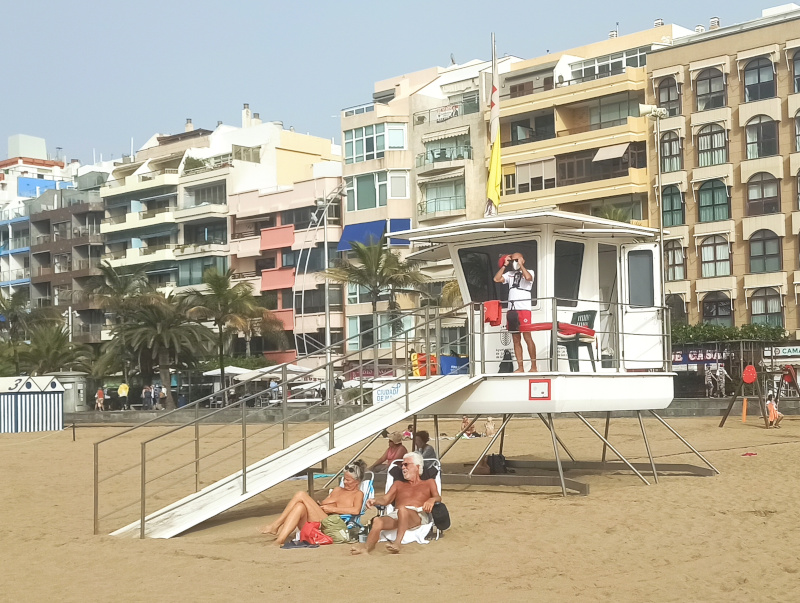 The main beach in LasPalmas is Canteras, which has a long promenade and continues with several other beaches: Chica, Cicer. Alcaraveras beach is smaller and less visited. On both beaches you will find, public and free toilets and showers. There are lifeguards at Canteras beach and sunbeds can be rented.
At the very end and south of the town is Laja beach, where only locals go.
Local mentality
The locals are on top of everything, which is why it's so relaxed and peaceful. But at the same time, there's an unreliability that can be stressful. You wake up late. Pubs start filling up around 10am and partying till dawn. It's not a working man's lifestyle.
Other tourist destinations
museum
aquarium
mountain hiking
rum museum
Sand sculptures:

Kalima
In winter, you may encounter a weather situation called Kalima. This is a situation where the wind carries wedge and sand from the Sahara desert to the Canary Islands, making the air highly dusty. On such days, it is better not to do sports activity or go to the sea, where the humidity and wind make it milder The intensity can vary. Typically it subsides with wind or rain - i.e. the arrival of bad weather.
Losses
I nearly ruined my new boots in the challenging local sandy conditions. All of my socks got punctured, so I threw them straight away when I left. I broke my phone, it's still usable, but the camera glass and back panel are broken. (I learned while repairing it that the lens is also broken). The glasses in my glasses are very scratched. The laptop and I survived and I am even more greased!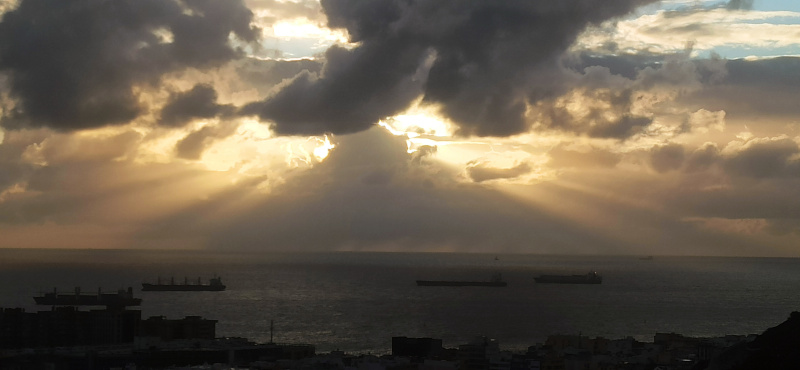 Personal Growth
I have had the opportunity to experience many new things, to learn and to train. I practiced language, learned and practiced sports very intensively and had the opportunity to improve in interpersonal interaction. This stay of several months gave me more in every way than several years before. Every change simply brings personal growth!
Return
Austria gradually lifted the restrictions even to the point where one could stay there, so I flew back home via Austria. I also chose Vienna because the flights there are more accessible and cheaper, and the money I saved paid for a week's stay in Vienna. Either way, Prague or Vienna, I still need to get home. The train home from Vienna cost me 850kc, if I had booked it the day before it would have been 750kc.
Benefits of staying in Las Palmas grow
To summarise, the main advantages of staying in Las Palmas in the Canary Islands in winter are:
people
warmth all year round
sports
stress-free environment
the day is not short in winter
Other resources
GPS logs of walking, cycling and other routes around Las Palmas and Gran Canaria
My YouTube channel with videos from LasPalmas
More photos on Instagram
Freelance article - Gran Canaria
Články na podobné téma
Travel: camping and nomadism
Nomadism in Wroclaw
Payments in foreign currencies when travelling and online
How to start travelling. Where to get time and money?

Newsletter
If you are interested in receiving occasional news by email.
You can register by filling in your email news subscription.
+