Samsung S24H850 monitor
June 23, 2023
I have a high resolution of 2560x1440 on my laptop, so then having a lower resolution on an external monitor is inconvenient. In this case I use the external monitor only as a secondary monitor. So I decided to get a new monitor that would have the same resolution. And I happened to come across a model that I was interested in, that suited me and even has USB-C.....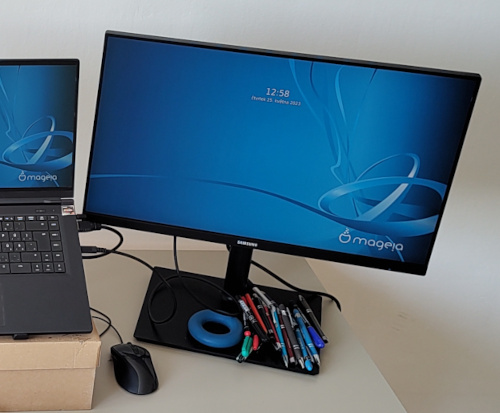 A monitor is one of the basic and essential equipment of an IT professional. That's why I always make sure I have a good monitor. So I was looking for something that would match the resolution of my new laptop Tuxedo Pulse gen 2.
So far, there hasn't even been a reason to buy a new monitor because the previous laptop ThinkPad X1 Carbon, couldn't output more than full HD resolution (1920x1080).
The last time I bought a monitor was in 2015 and it was a BenQ BL2411PT, which has good specs and adjustable height. I described everything in the article when I was choosing a new computer - desktop. The BenQ BL2411PT monitor has a resolution of 1920x1200 , which is a good resolution but smaller than my current Tuxedo laptop.
Requirements
The requirements for the new monitor were clear, similar to the last monitor I bought, but this time resolution 2560x1440. It was important again that the monitor did not have a backlight control with PWM and therefore did not flicker.
On the Internet and in technical descriptions of monitors, flicker-free backlight control is referred to as "flicker-free". Here I add a few links where this is addressed and there are lists of monitors that meet this:
Candidates for the new monitor
Of course as a sw developer and linux admin I am not a graphic designer so I don't need a monitor with perfect color rendering. So monitors that are designed for graphic designers and have a significantly higher price I could easily eliminate from the selection.
I found the following as interesting candidates at an affordable price that are on the market in 2023:
Dell P2418D
Acer XV252QF
ViewSonic
27" ViewSonic VX2758-2KP-MHD Gaming
Samsung S24H850
When I accidentally came across the Samsung S24H850 monitor, I decided to buy it because it met my basic requirements. Moreover, it was sold at a good price because it is not expensive and it was a used piece. It even has an adjustable stand. The final price was 3390,- with VAT for me as a VAT payer, so 2802,- CZK.
So I ordered it and was more or less surprised what peripherals etc.
My workstation with two monitors and a laptop. The laptop is on a stand that is placed on a box so that the laptop display is higher up.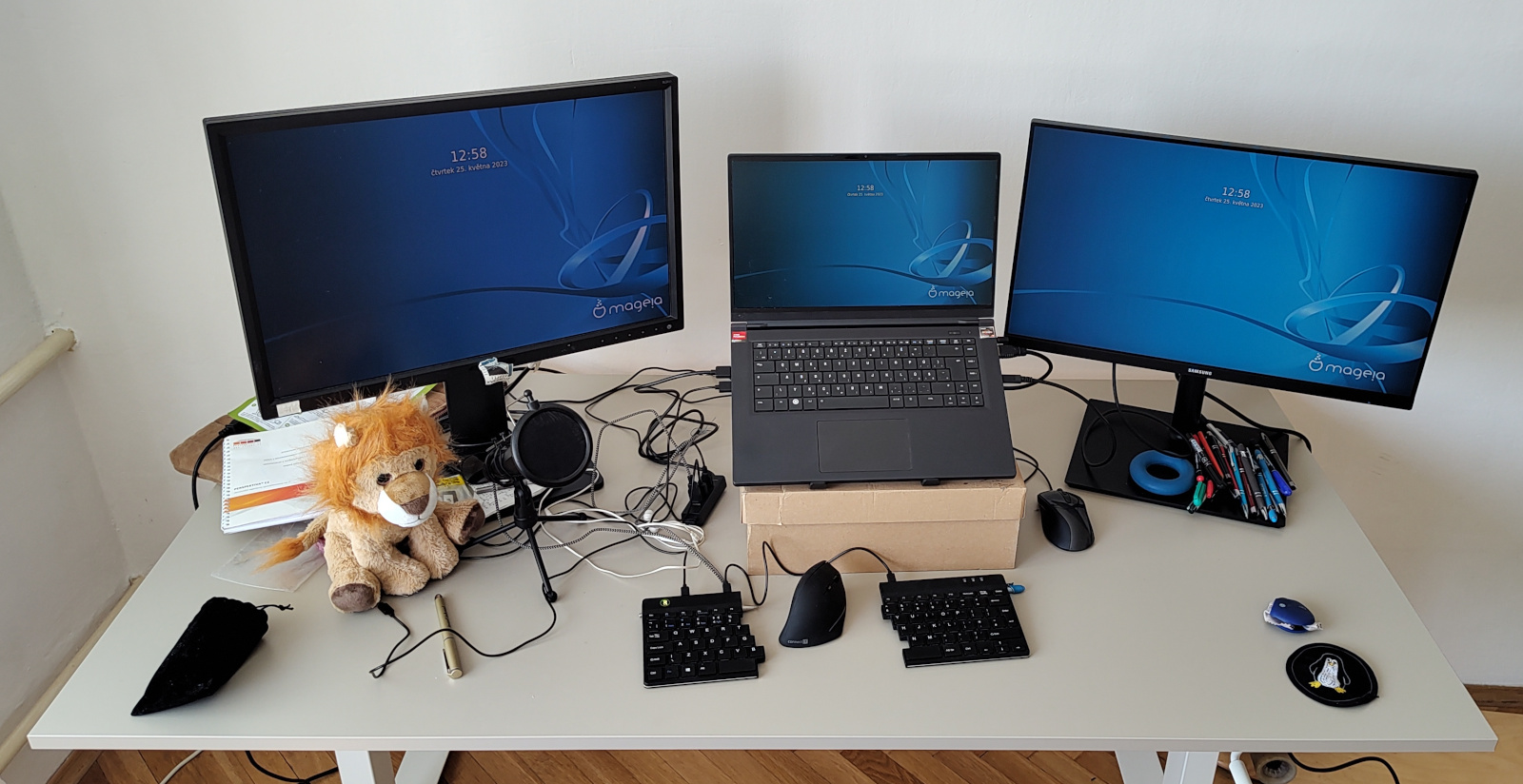 Technical parameters
The technical specifications of the Samsung S24H850 are:
Resolution: 2560 x 1440 pixels
Angle ratio: 16:9
Connectivity: HDMI 1.4, DisplayPort 1.2 1x IN 1x OUT
USB-C, 3 x USB 2.0
Flicker-free Technology
Viewing Angle: 178º horizontal, 178º vertical
Diagonal: 24" (60cm)
Panel Type: PLS
Response time 5ms
Maximum brightness 300cd/m2
Frequency 60Hz
Monitor does not have speakers. The monitor has a Jack connector - output.
Weight: 6.4 kg
The monitor has a USB-C connector that can be used to power a laptop. Video signal and sound can be sent to the monitor. And at the same time, the monitor serves as a USB hub. However, be careful to use the original cable or other suitable cable for the picture to go through it. The highest USB version is not essential for the functionality of such a cable. Personally, I bought a USB-C USB-C version 3.2 gen1 cable and it did not work. You need to choose such a cable that has a high transfer rate. You probably need a cable with a minimum speed of 10Gbit.
I bought a USB-C 3.2, M/M, 20Gbps cable, 2m long, and the image transfer works.
The monitor does have a Jack connector on it, but it does not have speakers. This jack connector is used as an output if audio is sent to the monitor via a data cable. In this case, you can connect headphones or an external headphone to the monitor. If you have a laptop, you'll probably run the audio into the laptop's integrated speakers. You can take advantage of this, however, the moment you use, for example, RaspberryPI as a video player and send the video and audio through a data cable to a monitor that already has speakers connected.
The monitor has other interesting features. For example, displaying two inputs on one split monitor. Or displaying another input as a smaller window above the main input. These are features called pip/pbp mode: Picture by Picture, Picture in Picture.
It is possible to select the version of the display port to be used, either version 1.1 or 1.2.
Health
Don't forget that workplace ergonomics are important too! And this is where the monitor plays an important role, because the monitor must be positioned correctly. It should not be placed in front of a light source such as a window. Place the top edge of the monitor at eye level, assuming you are sitting upright. Yes, working on a laptop flat out contradicts this.
I have newly purchased this high stand for my laptop.
It was sold as: MAX premium folding holder MNM1510FD.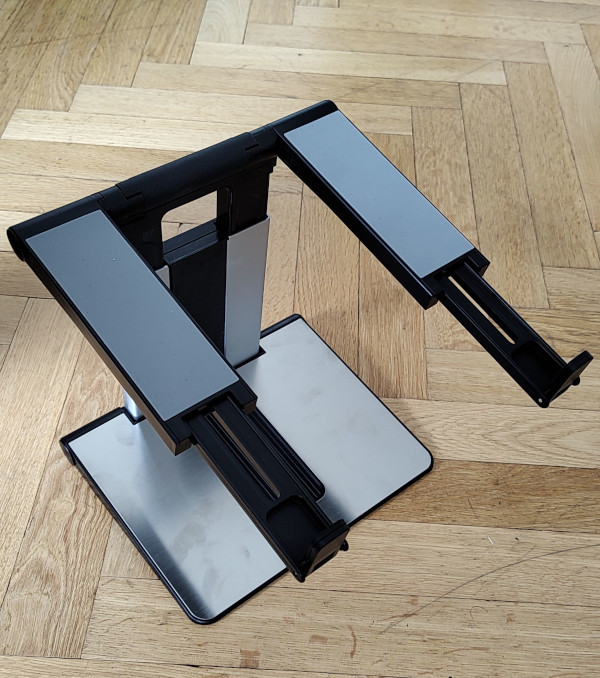 More information in the article How to create a healthy workspace.
Experience
I was very pleased with the connection of the monitor to the laptop via USB-C. Thanks to this, I can connect to my laptop
Tuxedo Pulse gen 2
and connect the monitor via HDMI output. In addition, via USB-C, the monitor serves as a USB HUB, so I can, for example, connect my mouse directly to it and no longer connect it to the laptop.
Purchase review
For the money, I am extremely satisfied. It's hard to get a monitor with this resolution for a good price. The colors and luminosity is good, the viewing angle too. I also see the USB-C connection as an advantage because that way I can use the USB-C connector not my laptop.
If I didn't have the aforementioned BenQ BL2411PT monitor I would buy another Samsung S24H850.
Články na podobné téma
TUXEDO Pulse 15 - Gen2
How to connect a computer to a mobile phone running Android
Data backup
Computer with MSI B85-G43 motherboard and Intel Xeon E3 1226 processor
How to use an SSD and TRIM
Using TouchBook in practice
Disassembled computer disk

Newsletter
If you are interested in receiving occasional news by email.
You can register by filling in your email news subscription.
+