How to video conference
April 9, 2020
When I transitioned to freelancing, i.e. became an independent professional, I knew that the basic need I would be addressing would be communication, and remote communication at that. Collaboration is increasingly remote and moving online. But how to handle remote meetings effectively and conveniently? Particularly in the coronavirus era, when experienced face-to-face meetings and associated experienced functioning are limited? Therefore, there has been a great need to address meetings through video conferencing. So there is a need to choose a good tool. What are the tools for video conferencing you can read in this article.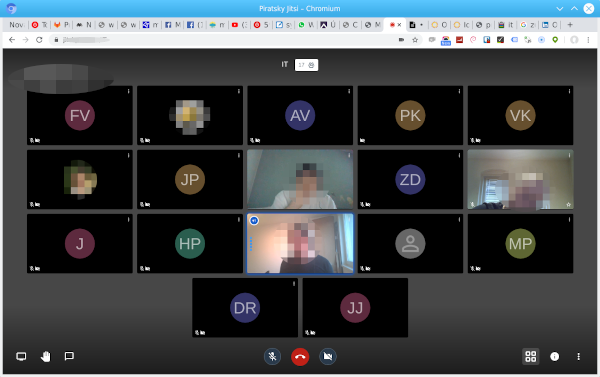 Communication options
I have already tried and tested most of the communication methods and I use proven tools for that.
Specifically:
Email for diverse and initial communication.
Ticketing system in gitlab, for communication and project management.
Chat for quick communication.
Phone for urgent matters or pre-arranged meetings.
But how to handle remote meetings efficiently and conveniently? Particularly in the coronavirus era, when experienced face-to-face meetings and associated experienced functioning are limited, and therefore a great need to conduct meetings by video conferencing. So there is a need to choose a good tool and what it is you will find out in this article.
Lifelike remote meetings
To feel like you're in a face-to-face meeting it's good to see your faces in motion, that's what video telephony is for. When you are negotiating over some documents you need to see the documents too, i.e. share documents and screen.
So you need a tool that not only transmits voice but also video and can share the screen.
So I made a research of tools available for this purpose. And then analyzed what they can do and tested them in practice.
Most of such tools also have chat.
Browse
The basic assumption is that you have the equipment for video conferencing.
For simple conferencing, ill often use even a smartphone, because it is already equipped with the necessary peripherals and after installing a specific native application, you can quickly and easily start calling.
Another obvious thing is the Internet. But care must be taken to ensure that the connection has at least some speed and stability
However, if it is some serious work you will definitely use a computer. So besides a computer you will need:
Most laptops today have a microphone and a camera.
If you have a desktop, you have to get the aforementioned peripherals. The sound card in a computer today everyone has is integrated on the motherboard. Sound chips are very high quality nowadays. But the ones integrated on the motherboard often have cheaply made wiring around them and so you get hum etc. For video calling, however, this won't matter and so you simply plug in an analogue microphone and headphones, which you also often have at home. Or with a reduction from a 4pin jak connector to two 3pin jacks you can also connect smartphone headphones. Even today's laptops have one 4pin jack connector for headphones with microphone.
You can buy a camera on the cheap too. Or I started with the Eken H9R action camera, which acts like a webcam when connected to a PC. However, its image is fish-eye shaped.
Subsequently, for the sake of online-streaming to my yourube channel, I purchased a Logitech c920 camera, which has fulHD resolution, autofocus, and a microphone on it. So besides a good picture, I also have good sound quality with no hum and noise. So it's great for video conferencing as well.
Tools for video calls and sharing
Skype
Skype is probably the most unknown tool for video conferencing. It can also do screen sharing. However, given its history and experience, I've dismissed it.
What business users should realize, however, is that casual use is not intended for commercial use.
Whereby
I came across this tool once when communicating with HR ladies. The whereby tool runs in a web browser. It can do video call conferencing, desktop sharing, chat. However, I did not get the microphone working with this program when using it on a desktop computer. The internal microphone was not even visible and nothing could be heard at the camera microphone.
Zoom
The Zoom app requires an app download. Supposedly, however, it can be run in a browser, but I was unable to do so. I use this SW for some video callels and it is functional. I had to download the app binaries on desktop and the native mobile version can be installed on mobile.
If one is not discouraged, one can use the web interface as well. However, this doesn't have all the features and doesn't work as well. However, for basic communication even the web interface is enough.
Discord
Discord is popular among gamers. I didn't even know that it could Discord video callly. However, I've dismissed this software because, while I use it occasionally, I find it pretty much to the effect (I guess as it's for gamers). Supposedly if it hasn't changed it can also share the desktop, but only in low resolution.
Update March 2021
With the advent of the voice social network clubhouse, I'm exploring Discord more, because Discord was developed with the goal of good voice transmission, specifically having low latency. Low latency means that the other party doesn't hear you with a delay and so you are able to respond to each other quickly.
This network has several major advantages over clubhouse:
No invitation needed
Client is multi-platform
Chat option
Conference option
Allows screen sharing
Advanced user rights and room access settings
Thanks to multiplatform, you can use Discord on your Apple (iOS) or Android phone. There is a native app for all major operating systems (Windows, GNU/Linux, macOS) or you can use the web client.
The desktop can share in full resolution
I use Jitsi for one-off calls as there is no registration required, but for regular meetings I plan to start using Discord
Bluejeans
I've only encountered the Bluejeans software once, and that was on a mobile phone when I just installed the app. However, when I wanted to try it myself and set up a mailing list, it required registration etc.. So I didn't bother any more.
Google Meet
After Skype, it spread to regular users. Google Meet. Goole Meet is actually a standalone solution like Hangouts was, only more functional. This tool makes it convenient to use. You need to have an account from Google. To create a conference for sure. Just to join a conference maybe an account is not needed - you just connect via the link sent. It allows video conferencing including desktop sharing. Works in the browser and has a native app for smartphones.
Jitsi
Jitsi is an opensource solution, so it's possible to check the source code to perform a security audit of the app, which is essential for working with non-public data. Moreover, you can run the application on your own server. Thus, there is the possibility to address security in detail and independence from the vendor.
It is also possible to connect to the video conference using only a browser. For initial and regular use, you can just set up a co-conferencing room at https://meet.jit.si/.
There are also more public operators e.g. VPSfree runs the Jitsi server.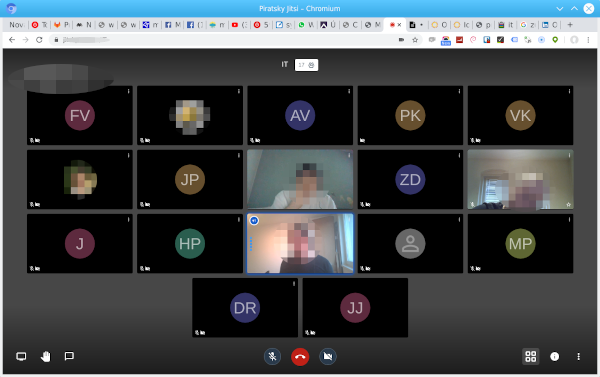 Jitsi also has a native mobile client. The mobile app also works in the background, so you can take notes or read something from the web during the conference. In the web browser with Jitsi, my analogue microphone and the USB microphone in the webcam worked without problems.
Jitsi source code
BigBlueButton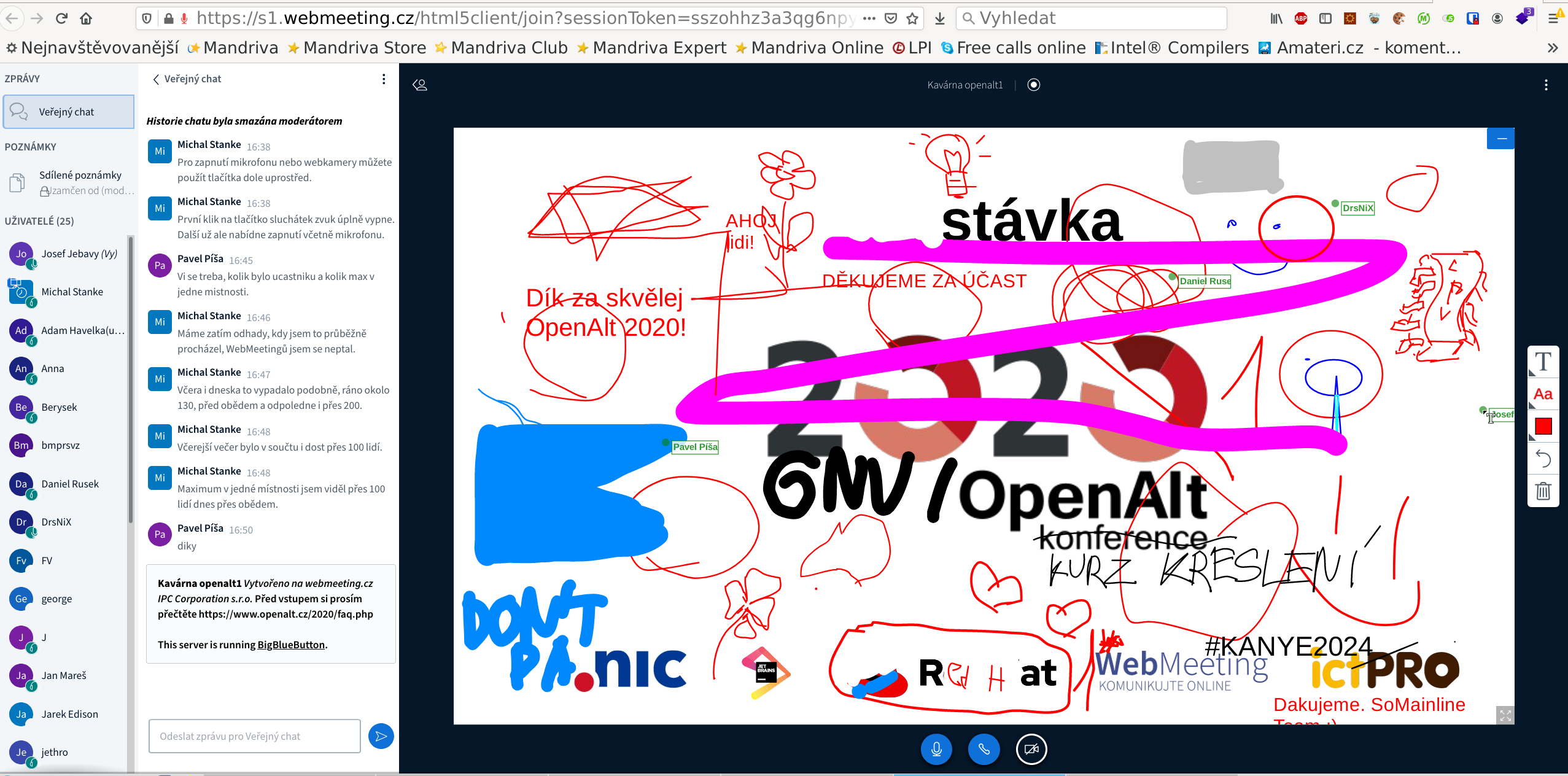 Additionally, I've gained experience with the BigBlueButton video confrence tool. This is an open-source project that is primarily designed for conferencing and training. Probably because it is also designed for training it has many advanced features for presenting (controlling the presentation) and drawing. It also allows you to set user powers: in terms of conference control options, guest vs presenter, microphone disabling and enabling, etc.
The application also has an API.
You do not need to register to use BigBlueButton. And you only need a web browser to join the conference.
The app remembers the name, so reconnecting is quick (no re-entering the name). I haven't found an Android app, but on a smartphone, BigBlueButton can be used through a web browser - unless it's out of date. After modifying the permissions on the smartphone, the microphone and camera worked. The app was also able to play the conference audio in the background.
When I first started it, the camera and microphone did not work on my desktop in Chrome/Chromium and Firefox, but after struggling with the settings in both browsers, the camera and microphone started working. Obviously you always need to familiarize yourself with the tool and its settings, but that goes for being able to set up a PC as well. (The experience is valid as of 2020)
As a visitor to the OpenAlt conference, which was held online in 2020, the use of BigBlueButton for listening and viewing purposes was fully functional.
More
Other software I've come across:
Option
So the choice for me fell on the software Jitsi, because it has everything I need, has no disadvantages, on the contrary, bonuses for the future. Moreover, as a Linux admin I can prepare private instances for customers with this software. And for me it is essential that what I install for my customers is already tested, so this way I will know the tool well and have it verified.
Security
When working from home, be careful of the tools you use to collaborate remotely. Here's an example
NUKIB report highlighting vulnerabilities that have been found in video conferencing software Zoom
.
How to make a phone call
For any activity, it's good to know the basic skills and stick to some rules and use the tools appropriately.
In the beginning of the meeting, do a round of introductions..
Have a topic and ideally an outline of the meeting prepared.
Have a handout ready.
If there are more people someone should lead the meeting. (Incidentally, this also applies to a normal face-to-face meeting.)
Put the sound/voice on headphones so the microphone doesn't pick up what others are saying and thus hear the echo.
If you are just listening, turn off your microphone.
Use modern technology to facilitate and streamline not as repression or creating barriers.
Články na podobné téma
Newsletter
If you are interested in receiving occasional news by email.
You can register by filling in your email news subscription.
+